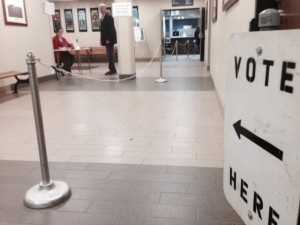 Polls open 7 a.m. – 8 p.m. on Election Day.  Be sure to bring a photo ID.
Polling locations for West Bend noted below:
District #1 Meadowbrook Manor 475 Meadowbrook Drive
District #2 West Bend Public Library 630 Poplar St.
District #3 NEW LOCATION – First Baptist Church 2300 S. Main St.
District #4 City Hall ~ Council Chambers 1115 S. Main Street
District #5 Washington Co. PAC 333 E. Washington Street
District #6 Washington County Govt Center 432 E. Washington St.
District #7 Moraine Park Technical College 2151 N. Main Street MATC Addition, Entrance T2,
District #8 Cedar Campuses 113 Cedar Ridge Drive
Anyone who is not sure in which Aldermanic District he/she resides, may call the City Clerk's Office at 335-5103.
All polling places are accessible to voters with special needs.