VIDEO | Honoring West Bend Police Lt. Duane Farrand
April 3, 2018 – West Bend, WI – The West Bend Common Council took a moment during its Monday night meeting to honor Lt. Duane Farrand for 27 years with the West Bend Police Department.
"This feels great," said Farrand. "
Farrand will turn 50 years old on April 9 and he will retire on April 10.
Farrand started his career as a police dispatcher with the Germantown Police Department. After nine months he joined the West Bend PD.
"When I started in West Bend Jim Skidmore was Chief of Police," Farrand said.
Other chiefs who included James Schwartz, Whitey Uelmen, and Ken Meuler.
"When I started we had French blue uniforms with gray pants and we had Stetson hats," said Farrand. "It was great in the summer time and when it rained it was great but they were very cumbersome."
The squads were V-8s and there was no traction control. "Very different from today," he said.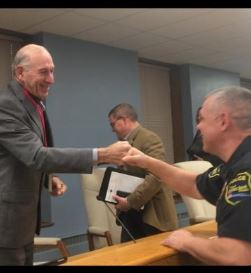 Farrand was also with the department when it was on the corner of Highway 33 and Main Street. "We were upstairs and the Fire Department was downstairs," he said. "I remember our booking was actually a closet and we'd open the door and it would have a swing out board and we'd thumbtack the suspect's name and booking number and we'd take a Polaroid of them."
Farrand said he wasn't sure what he would do in retirement. He said he will still be active on the Deer Management Committee.
His advice to incoming officers, "Take care of your community and your community will take care of you."