First look at site plans for addition to former Dublin's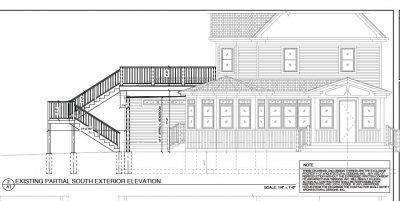 April 3, 2018 – West Bend, WI – It's a story you will see first at WashingtonCountyInsider.com as plans have been submitted to add a second-story outdoor dining area at the former Dublin's restaurant, 110 Wisconsin Street, in West Bend.
The proposed deck will extend off the west side of the building and include an exterior set of stairs to the patio below.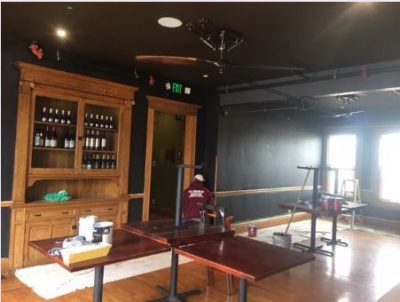 The former tenant, Dublin's, closed at the end of March after the owners moved out of state.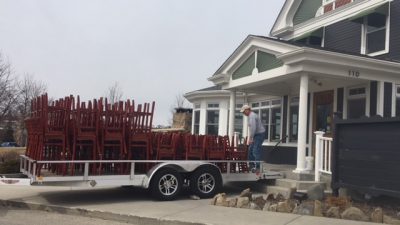 On Monday afternoon a trailer full of chairs was seen exiting the property. The exterior signs had also been removed.
The interior is getting a fresh coat of paint and a thorough cleaning is in the works.  Click HERE to see a video of the walk through of the empty building.
According to Mark A. Piotrowicz, Assistant Director Department of Development with the City of West Bend, said a site plan was needed and not just a permit for the deck. "This is a commercial enterprise and the plans are changing the appearance of the structure and it will require site plan approval," he said.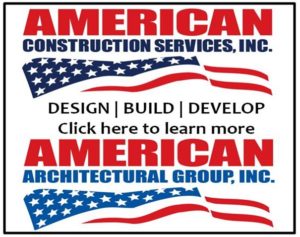 The West Bend Plan Commission will have to review the proposal. While the next meeting is April 10, the deck will not be on that agenda. Piotrowicz said it looks like the earliest the Plan Commission will review the site plan is in May.
One other caveat is The Museum of Wisconsin Art has an agreement with the City of West Bend that allows MOWA to comment. "It's part of MOWA's development agreement," said Piotrowicz.  "If the item is located in specific boundaries surrounding MOWA and this site plan will go to them and they have an opportunity to comment before Plan Commission reviews."
In the past MOWA has reviewed plans for Affiliated Clinical and QUAM Engineering.
According to building owners Kevin and Amy Zimmer there is a contract in place for a new owner to move in and that should close in June.