Germantown, WI – Welcome Wisconsin Stamping and Manufacturing of Germantown.
The family-owned company was originally founded by the Erickson's who got their start in a small, rented location and then moved to Butler in the 1970s.  In 2011, the facilities in Butler and Pewaukee were consolidated into a brand new state-of-the-art facility in Germantown.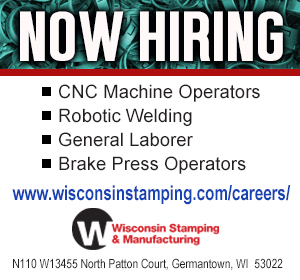 After six decades, we've likely seen the product you need.
There's a lot more to Wisconsin Stamping than our name would imply. Since 1958, our roots have been in metal stamping. But today it's about metal fabrication of virtually every kind, in every metal type and stock, and through numerous processes. We've perfected proprietary means of forming metal to simplify production and deliver higher quality products. Our name says Wisconsin Stamping, but there's a world of metal fabrication that goes on in our state-of-the-art, ISO 9001 facilities.
Nearly six decades ago, we opened shop as a manufacturer of split seam tubular components, and to this day it's a core component of our service offering. Over the past ten years, Wisconsin Stamping has seen its most significant growth, organically and through acquisition.

2007 – Machining division established to serve unique customer needs

2010 – Wire & Metal Specialties (DexM) acquired, adding wire forms, thread-rolling, unique stamping capabilities, strengthened fabrication abilities, and automated welding

2011 – Built a state-of-the-art facility in Germantown, Wisconsin, equipped with the latest in metal working technology, added laser cutting equipment for plate steel cutting up to 1″, and fully automated, robotic wire forming cells

2013 – Further increased wire forming, fabrication, and machining capacity

2016 – Increased wire forming and fabrication capabilities

2017 – Doubled facility footprint to 120,000 square feet, and added machining, fabrication and wire-forming technologies