Jackson, WI – Kettle Moraine Lutheran High School (KML), 3399 Division Road, Jackson, WI, has a number of job openings, full-time and part-time.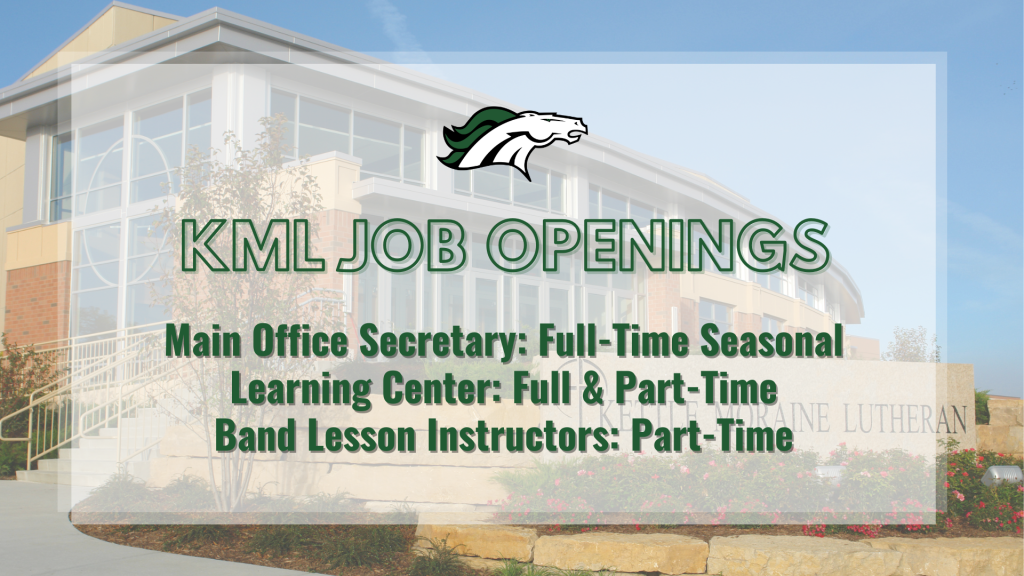 MAIN OFFICE SECRETARY:
KML is looking to fill the position of Main Office Secretary. This individual will assist the Director of Student Culture and the Director of Student Services. Duties include accurate recording of student attendance and performing general secretarial and office management tasks. Additionally, the person in this position will serve as the point of contact for online course providers and assist in registering, monitoring, and recording the progress of students in online and dual credit classes and Youth Apprenticeship and Work Release programs.
This is a full-time seasonal position of 40 hours per week (approximately 7:00 a.m. – 3:00 p.m., Monday – Friday), yearly from August to the beginning of June. Hourly pay is based on experience.
Please submit questions and resumes on or before June 30, 2023, to Mrs. Melanie Schoeneck (262.677.4051 x4018; [email protected]).
For a more detailed job description, visit kmlhs.org/mainsec23.
LEARNING CENTER:
Due to Kettle Moraine Lutheran's growing enrollment and more students utilizing the Learning Center, our staffing needs have increased. The KML Learning Center has full-day and half-day positions open for individuals to work with students beginning in the 2023-2024 school year. A high school diploma is required. If interested or for more information, contact Learning Center Administrator Sheila Krause ([email protected]).
BAND LESSON INSTRUCTORS:
Due to increasing interest in the program, our Kettle Moraine Lutheran Elementary School Band Program is looking for part-time teachers to help teach band lessons at KML Federation elementary schools during the 2023-2024 school year. A degree in instrumental education is required. If you are interested or would like more information, please contact Mr. Nate Amundson, Director of Elementary School Bands ([email protected]).