Washington County, WI – Navy veteran John Lamm of Jackson, WI, will be joining nine other veterans from Washington County, WI on the Saturday, April 22, 2023, Stars & Stripes Honor Flight to Washington D.C.
Lamm attended the ROTC program at Marquette University for business administration and was commissioned into the US Navy as an officer in 1962.
Click HERE to SUBSCRIBE to FREE local news at
He was stationed on the USS Kitty Hawk out of San Diego, CA, and was assigned as a junior officer to an Admiral's staff that commanded flight ops. "I went to Vietnam by air to a conference with more senior officers. They took me along for this administrative flight and I feel very blessed, very privileged to have seen all the places and things I saw," he said.
Lamm attained the rank of lieutenant and received the Meritorious Service medal by the time of his honorable discharge in 1964.
To this day, Lamm keeps in touch with one of his Navy comrades, Dick Cunnion, who now resides in FL. "We were junior officers on the Kitty Hawk together," said Lamm.
Lamm has been married to his wife, Patricia "Pat" since 1971. Together they have adult children, John Jr. "Hans" (a term of endearment foisted upon John Jr. since age 2 as "Hansie" and has stood the test of time), and Laurie, who will be Lamm's guardian on the Honor Flight. Both are from Jackson, WI.
They also have five grandchildren: Hans and wife, Melissa, have Will, Jayden, and Arielle. Laurie (Eric McGraw) have two boys, Phillip "Grant" and Jonathan "Reid." As a proud grandfather, Lamm shared that his grandson, Grant, is a sophomore in college at Grand Canyon University in Phoenix, CO, and is an avid golfer. Another grandson, Reid, was just accepted into the Army ROTC program at Texas A&M.
Lamm began his landscaping career in Glendale, WI just as he was entering college and had set his sights on the Navy. He laid down the business to concentrate on his military service only to pick it back up again upon his return to civilian life.
After Lamm's parents moved to the Jackson area, he moved in with them for a time. He credits his landscaping roots to his father who worked his day job at A.O. Smith in Milwaukee and built houses on evenings and weekends. "We built a few houses, including our own. I grew up with that. Then I got into the grading. I grew up with an old tractor, then another old tractor, and finally a good tractor."
Lamm tells the story of his first "real" job that inspired him toward his passion for his landscaping business. "I was at the old West Bend Lithia Brewery picking up a barrel of beer for a summer picnic. I saw the new fire and police department being finished and thought 'Well, that's about ready for landscaping,'" said Lamm. He created a design and sold it to West Bend's Common Council and the rest is history. "We had one job after another. I enjoy working and creating. We have a great crew," Lamm said.
Lamm has enjoyed opening up his stored memorabilia now that the Honor Flight is nearly upon him and reminiscing on some fond memories, "While serving on the Kitty Hawk I belonged to an antique car club," said Lamm, "I found an old Model A pickup that I bought from a farmer out there.
I took it back to the shipyard and the club helped fix it up. I was doing it all for fun and it was good PR for the Navy. I painted the truck Navy gray and lettered it, 'For official use only, 1930.' Later on, I bought a 1965 Chevy convertible that I restored. I still have it. It's in great condition and still has the Navy from North Island sticker on it."
Celebrity names are rarely dropped by servicemembers unless it coincides with a show or movie from the era. Lamm can say that he personally met Walt Disney and Dick Van Dyke while he was stationed aboard the USS Kitty Hawk. "They were there due to the filming of the movie "Lieutenant Robinson Crusoe, USN (1966). I talked with Walt about Disneyland which was then 10 years old; it was 1965.  He said it was a place where the children can bring their parents and grandparents. I have his autograph on my Navy name card which I still have."
Lamm is one of nine veterans from Washington County, WI
on the April 22, Honor Flight
Military service runs in the blood of Lamm's family, "My brother, Bill, who is 94, was a Navy captain. He was all over the Atlantic, stationed at Norfolk, VA." With brotherly pride, Lamm talks about Bill, who went to Naval War School and was the CO at Great Lakes Training School.
"Bill brought an accordion back for me," said Lamm, "I still play it at Shorthaven Lutheran Home and sometimes at the ski hill in Kewaskum."
On another musical note, Lamm started his own band while serving in the Navy on the Kitty Hawk. He bought a whole set of drums for "The Kitty Hawk Band" which were played by yours truly. "I taught our grandson, Will, to play drums when he was in 4th grade."
"Sometimes I joke about my new career," said Lamm, referring to playing the accordion or drums for free food and drink. Bill was in the Navy for 25 years, having enlisted after attending UW Madison.
Lamm stays connected to the Navy ROTC at his alma mater, Marquette University. He and his wife attend the Navy Ball every year. He goes in full dress uniform which, he proudly professes, still fits. This year, however, he will be missing the ball as it is the evening before the Honor Flight which has a very early morning start.
Excitement has been building for Lamm as the day of the Honor Flight approaches. He has his Honor Flight shirt, pin, and hat at the ready. "I'll be very interested in seeing the Tomb of the Unknown Soldier. I'll be surrounded by people who were in the Army, Navy, Air Force… Just being in Washington, D.C., the nation's capital, is very exciting to me."
Lamm said his experience in the Navy was not necessarily similar to other veterans. In fact, his brother, Bill, used to say, "You oughta pay the Navy back, you got so much good from the Navy."
"I would recommend for anybody to go into the service," said Lamm.
Lamm belongs to American Legion Post 486 out of Jackson, WI.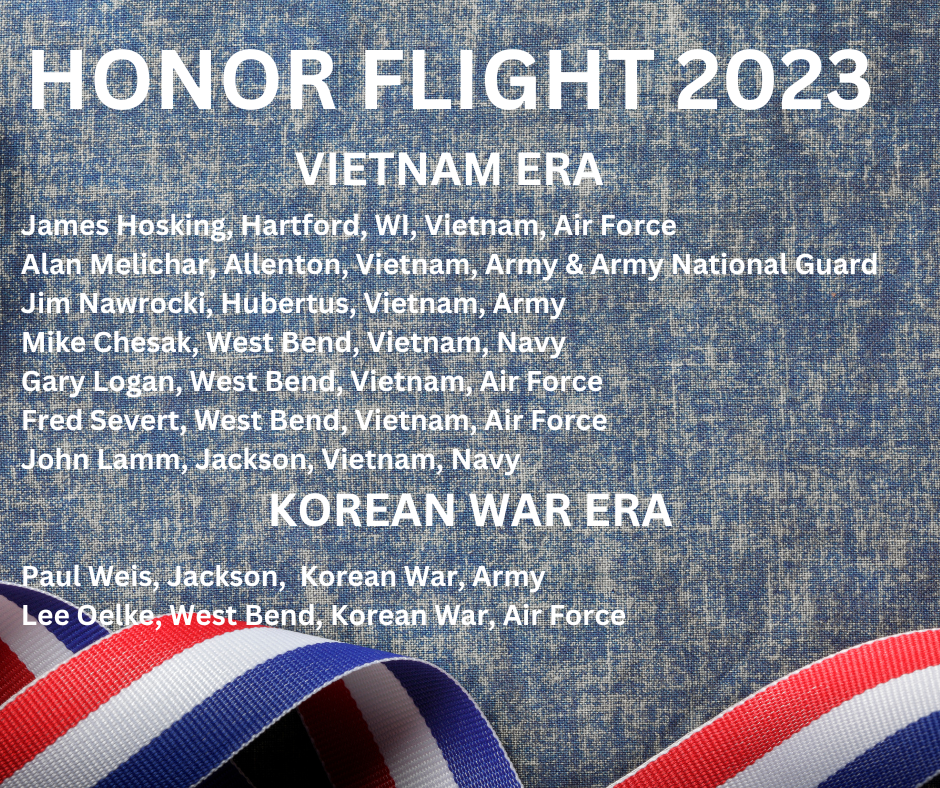 Lamm said, "I was very blessed throughout the service. The experience of the Navy, the people, the equipment, the ships, the experiences, travel, and so many things. That's a blessing. Not everyone can say that. I didn't plan it to be so good."
"The Honor Flight is a blessing," said Lamm. "I never expected to do it. Memories are wonderful – we can reflect on them and be thankful for them."
Stars and Stripes Honor Flight is the Milwaukee area hub of the Honor Flight Network.  Founded in 2008, Stars and Stripes Honor Flight has flown more than 7,600 WWII, Korean War, and Vietnam War veterans from southeastern Wisconsin on a one-day, all-expense-paid trip to Washington D.C.
Click HERE to see other Washington County veterans on Saturday's flight.