Kettle Moraine Lutheran edges Campbellsport. By Rhaea Lehman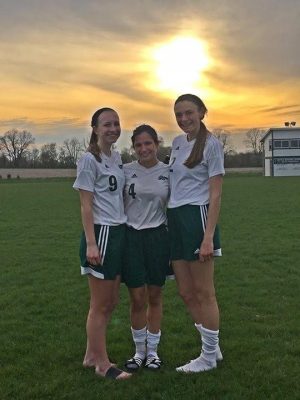 April 26, 2017 – Jackson, WI – The Kettle Moraine Lutheran High School girls' varsity soccer team played the Campbellsport Cougars on Tuesday.
Kettle came out strong and aggressive as they pushed towards their offensive side of the field.
Junior attacking midfielder for Kettle, Caitlyn Kaelberer, scored an exciting goal at 2:31. Within the last 40 seconds of the game, Campbellsport shot the ball which deflected off of Kettle goalkeeper Kelsey Knuth as she dove to stop it.
As the ball slowly rolled away from the goal another Campbellsport player advanced trying to tie the game.
Knuth, sensing the immediate danger to her goal, pushed off the ground and swept the ball into her arms.
Knuth's quick action helped secure a 1-0 win for Kettle.
The Kettle Moraine Chargers are looking forward to Thursday, April 27 when they take on the Kewaskum Indians.
Photo courtesy Jill Washburn.