Kettle Moraine Lutheran gearing up for University School of Milwaukee in regional semifinal. By Jacob Moeller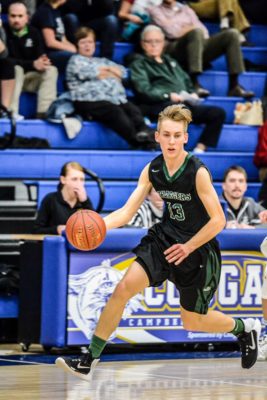 March 3, 2017 – Jackson, WI – Kettle Moraine Lutheran faces University School of Milwaukee in a regional semifinal clash on Friday night.
Both teams cruised through the first round by 50+ points, and will be ready for a tough contest.
USM is 18-5 on the year, and topped the Midwest Classic Conference with a 13-2 record.
The Wildcats are led by senior Walter Taylor, who has averaged 16.0 points and 7.7 rebounds on the year.
In the last meeting between the schools on Nov. 29, KML pulled out a narrow victory 57-51 on the road.
The Chargers were strong on the boards, out rebounding the Wildcats 47-35.
If KML wants to advance, it will need another solid night on the glass. The game tips off at 7 p.m. tonight at University School.
Photo courtesy Diane Behm