Kettle Moraine Lutheran Girls Golf advance to Sectionals | By Megan Himm
October 5, 2019 – Racine, WI – The sky was overcast and the course was wet, but the girls golf team from Kettle Moraine Lutheran (KML) High School pushed through.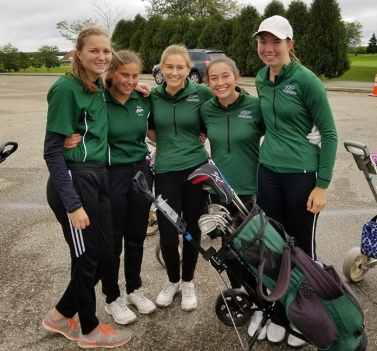 (Kayla Samman, Abby Schambeau, Emmi Lechmaier, Maddie Lechmaier, and Megan Himm prepare for their match) Photo credit Dave Himm.
Mere hours after storms passed through, Racine St. Catherine's hosted the Division Two regional match at Ives Grove Golf Links. The girls played the white and red nines. Due to course conditions, special rules were enacted. The girls were allowed to mark, lift, clean and place their balls, as well as remove them from standing water.
The cloudy sky only let the sun shine through on a few occasions during the match. Temperatures stayed in the upper 50s with a slight breeze to keep it cool.
The KML girls struggled on the front nine, but turned it around on the back.
Megan Himm shot a 55 and a 44 for a 99. Himm had a par on holes 11, 12, and 13. Abby Shambeau shot a 61 and a 57 for a 118. Maddie Lechmaier shot a 66 and a 62 for a 128. Kayla Samman shot a 69 and a 61 for a 130. Samman had a par on hole 12. Emmi Lechmaier shot a 73 and a 62 for a 135. Lechmaier had a par on hole 15. The team scored a total of 475.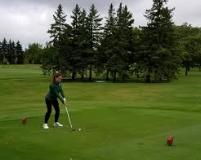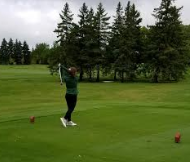 (Maddie Lechmaier hits her drive on the first tee)
Photo credit Dave Himm.
The top four teams advanced to sectionals, as well as the top four individuals not on the advancing teams. Lakeside Lutheran finished first with a 410. They were closely followed by The Prairie School which shot a 413. Winneconne came next with a 417. KML finished up the list of advancing schools with 475.
The top four individuals advancing included Taylor Peterson from Clinton, Olivia Morality from Racine St. Catherines, and Kendall Peterson and Rebecca Schildgen from Turner.
Sectionals will take place October 7 at Ridgeway Country Club in Neenah.
About the author: Megan Himm is a senior at Kettle Moraine Lutheran High School. She is the captain of the golf team and a member of the forensics team. After high school, Megan plans on majoring in mathematics and science. To help prepare, she is currently taking AP Chemistry, Physics, and Calculus 3. Megan has been writing for WashingtonCountyInsider.com since November of 2018. The majority of her stories are about activities Kettle students participate in, such as math meets, forensics meets, and golf matches.