Kettle Moraine Lutheran Girls Golf at Sectionals | By Megan Himm
October 9, 2019 – Neenah, WI – Van doors were slamming, push carts were being assembled, and girls were going over their pre-match checklist as the morning of WIAA sectionals began. The range filled and the practice greens were busy. Girls added layers to combat the cool temperatures and slight breeze. Soon enough, the first tee times were up, and sectionals had begun.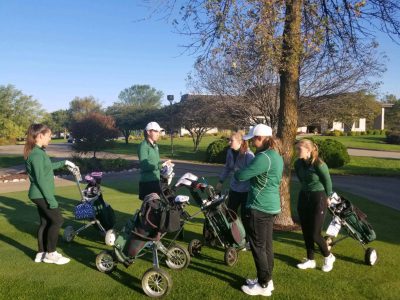 (Maddie Lechmaier, Megan Himm, Kayla Samman, Abby Schambeau, and Emmi Lechmaier  prepare to head out to hole number one) Photo credit Dave Himm
For the girls from Kettle Moraine Lutheran HS (KML), this day was extra special as it is record-breaking. This is the first time in the history of KML that the entire girl's golf team has made it to sectionals. In the 2018 season, Megan Himm qualified as an individual. Both sectionals took place at Ridgeway Country Club in Neenah.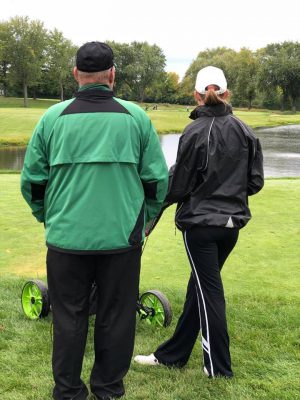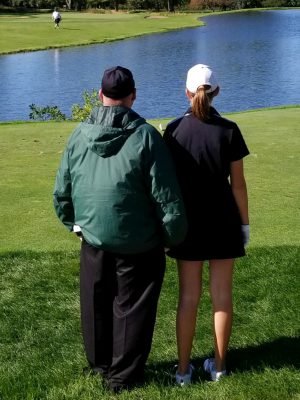 (Himm with her coach on hole 5, 2018 on the left, 2019 on the right) Photo credit left Abby Shambeau, right Sarah Bridenhagen
Maddie Lechmaier was the first KML golfer to tee off. She hit a great drive down the center of the fairway as her teammates stood behind to support her. Kayla Samman and Emmie Lechmaier were soon to follow, leaving Himm and Abby Shambeau. The two stood close to each other to keep warm. Eventually, both girls tee off and make their way down the fairway.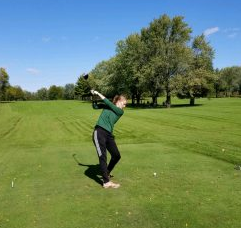 (Samman hits her drive on hole 15) Photo credit Dave Himm
As the day progressed, temperatures increased to around 60. The breeze occasionally picked up, affecting the ball flight. The course was in better condition than the previous course the girls played, but certain areas were still waterlogged. A lift, clean, and place rule was in effect for this match as well.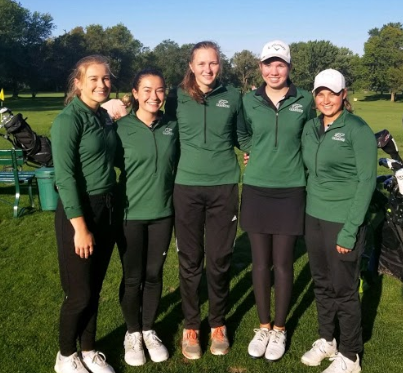 The course was one of the tougher courses the girls played all year. The front nine was longer than average, and some struggled with the extra yardage, especially when it came to par threes. The back nine was closer to average when it came to yardage, but had some of the most challenging greens the girls had seen all year.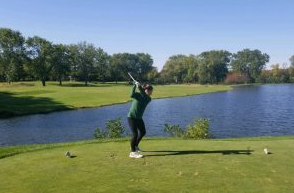 (Maddie Lechmaier hits her first shot on hole 5) Photo credit Dave Himm
Himm shot a 53, 51 for a 104. She had par on holes 2, 10, and 11. Shambeau shot a 56, 63 for a 119. Emmi Lechmaier shot a 67, 61 for a 128. She had a par on hole 13. Samman shot a 68, 72 for a 140. Maddie Lechmaier shot a 90, 85, for a 175. The team finished with a 491.
While the team may not have shot as well as it wanted, they had fun and were thankful for the chance to play one more round together. Samman sums up their thoughts well, "Throughout the day I had to push through my thoughts after getting a bad shot. I had to look forward to the next one, and think about how lucky I was to be there. It was an experience I never expected to happen, but I am very grateful for." This match concludes the 2019 golf season for KML.