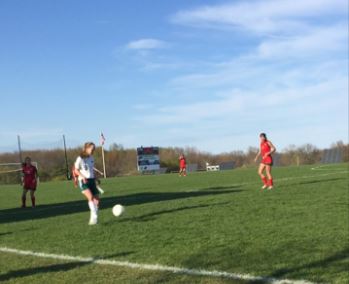 May 5, 2017 – Jackson, WI – Kettle Moraine Lutheran faced Berlin for the second time this season.
Previously beating Berlin 6-0, Kettle came into the game feeling prepared. Kettle frequently made use of the drop pass and line drives to move the ball around the field.
A long shot from just inside half field was made by freshman wing Elise Pankow. The ball sailed above the keeper's hands and into the net in the twenty-first minute.
Sophomore defensive midfielder, Abigail Washburn, made a far post ground shot in the thirtieth minute to continue Kettle's advance. The final score earned Kettle a 2- 0 victory.
Anticipation and nerves are with the Charges as it prepares for a game against University School of Milwaukee on Monday, May 8.