Kettle Moraine Lutheran has strong performance at East Central Conference Quad. By Jacob Moeller and photo by Belinda Matter.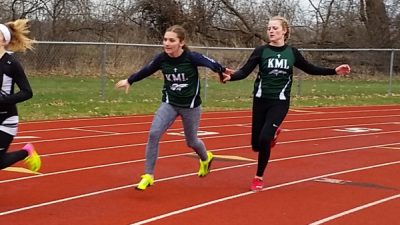 April 18, 2017 – Jackson, WI – Kettle Moraine Lutheran competed in another East Central Conference Quad on Tuesday, this time at Plymouth.
Also competing in the meet were Kewaskum and Waupun.
The Chargers were once again dominant in the shot put, with Brook Kary taking the girl's with a throw of 41' 11 ¾".
Bram Miller broke his own school record in the boy's shot with a throw of 54" 3 ¾".
His throw was nearly 15 feet better than any other competitor.
Bram's sister Ariana had quite the day herself, winning the 400 meter and placing third in the 100, 200, and long jump.
On the track, the Chargers won several events, including the boys and girls 4 x 800 meter relays.
Katie Miller took the 1600 meter, and Cassidy Johnson finished first in the 800.
The Chargers will be back in action on Saturday at Wisconsin Lutheran High School.  
Photo of Rebekah White and Anna Peterson, courtesy of Belinda Matter.