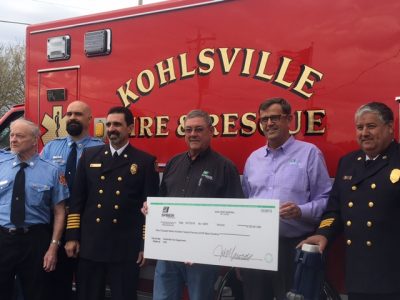 April 19, 2017 – Kohlsville, WI – Volunteers from the Kohlsville Fire Department gathered under cloudy skies Tuesday afternoon to celebrate a strong donation by neighboring business Spiros Industries.
The locally-run manufacturer donated nearly $10,000 so the fire department could purchase its first jaws of life.
"We've always thought about getting one," said Fire Chief Curt Martin. "Allenton has one and Kewaskum has one but if they're 10 minutes out we can at least try to rescue a person who may be trapped in a vehicle."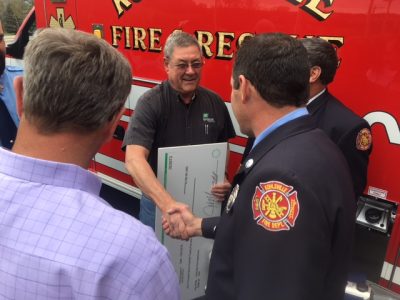 Spiros Industries recently used the back parking lot at the fire station while its building was undergoing some renovation. As a thank you the company made a generous donation.
"You don't find a local business that too often does something like that for a volunteer fire department," Martin said. "It's amazing what people in the neighborhood do."
Dennis Backhaus, president of Spiros Industries said they try to do something every year for the firefighters.  "When we're running out these are the guys who are running in," he said.
Jim Maronde is a partner at Spiros Industries. "These are really a dedicated bunch of guys," he said. "We've been fortunate in business and we like to help out where ever we can."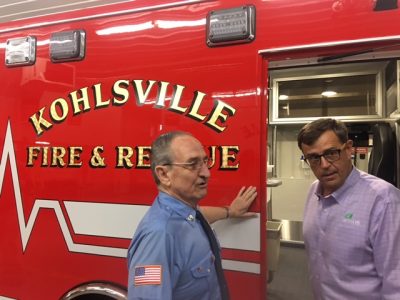 On Tuesday afternoon the Kohlsville Fire Department also showed off its new ambulance. "Our old ambulance was 26 years old and that one we got second hand from Allenton," said Martin.
The new ambulance is a 2017 E450 Ford custom cab and built by Foster Coach in Illinois. Kohlsville FD ordered the vehicle in December and it just arrived this week.
Foerster Signs in Slinger finished up the signage. The vehicle cost just under $120,000.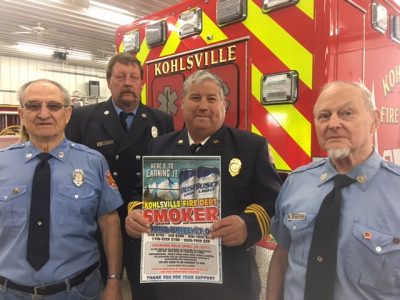 On a side note: Everyone is welcome to the Kohlsville Fire Departments annual Smoker on Saturday, April 29.