Kettle Moraine Lutheran holds on to beat USM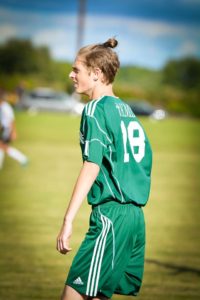 Friday's soccer match between Kettle Moraine Lutheran and University School of Milwaukee was far more than a game.
The Chargers were using this opportunity to honor former assistant Coach Barry Washburn, who suffers from ataxia.
The game began fairly even, with both teams creating a few chances, but both keepers stood firm. The Chargers scored first in the 62nd minute, after junior forward Collin Liesner tapped in a Joseph Raasch cross to give KML the lead, 1 – 0.
Four minutes later, the lead was doubled by junior Jacob Moeller.
With a solid lead in hand, the Chargers had to withstand a barrage of attacks from the Wildcats, with senior forward Xavier Davis leading the way.
Davis was instrumental in the USM offense, creating opportunities with strong dribbling and clever passing.
All of his hard work paid off when he danced past the KML defense and cut the deficit in half.
University School tried all they could to find the tying goal, but the defense stood strong and held on for a 2-1 victory.
The picture  of junior Collin Liesner is courtesy Diane Behm