Kettle Moraine Lutheran HS National Honor Society inductees for 2016-17 school year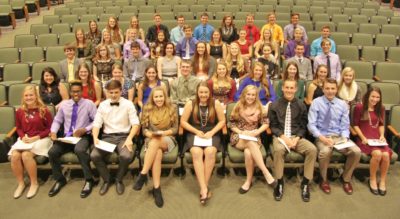 Nov. 8, 2016 – Jackson, WI – Students at Kettle Moraine Lutheran High School are celebrating the induction of eight seniors and 48 juniors were into the National Honor Society.
The NHS is a nationwide organization that recognizes students who reflect outstanding accomplishments in the areas of academics, service, leadership, and character.
These characteristics have been associated with membership in the organization since its beginning in 1921. Over one million students are estimated to participate in NHS.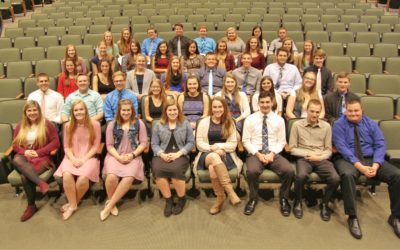 Following Constitution, the NHS chapters are found in all 50 states, the District of Columbia, Puerto Rico, many U.S. territories, and Canada. This membership not only acknowledge students for their accomplishments, but challenges them to develop further through active involvement in school activities and community service. The organization has gained its national recognition, so membership in the NHS can be an advantage to the student on college applications as well as scholarship competition.
In order to be considered for induction into NHS at KML a student must have a cumulative grade point average of at least 3.3, after his or her sophomore or junior year. A faculty council reviews other required qualifications and votes using a 100 point scale. In order to be accepted into the NHS, a student must receive an average 85 points from the members of the council.
Kettle's NHS officer, senior Megan Weber said, "The NHS members have already proven that he or she is able to achieve with academic endeavors, leadership, character, and service that demonstrates he or she is willing to use talents for the improvement of school and community."
Mr. Jay Shambeau Administrator for the City of West Bend participated in the service as a guest speaker.
The National Honor Society meets regularly during the school year. As any service activities may come up during the course of the school year, members will be expected that each member will be involved in at least five service projects during the year.
KMLHS National Honor Society Inductees
2016-2017 School Year
Seniors
Amanda Dahlman                                                                                         Brett Seiltz
Brooke Follansbee                                                                                        Lauren Siwy
Jadon Johnson                                                                                                Jessica Yang
Nicholas Poppe                                                                                              Dominic Zavaglia
Juniors
Jacob Anderson                                                                                            Abby Miller
Katelyn Aswege                                                                                            Catherine Miller
Rita Bliesner                                                                                                  Jacob Moeller
Ashley Braker                                                                                               Theodore Molkentin
Morgan Cerny                                                                                               Blake Nelsen
Jessica Dippel                                                                                               Alexander Neuwirth
Taylor Draheim                                                                                            Noah Nichols
Abigail Duba                                                                                                 Jacob Niemann
Jeremy Gaeth                                                                                                Kade Noennig
Caleb Grulke                                                                                                 Mikayla Ott
Haley Hauk-Landon                                                                                   Joseph Raasch
Brandon Heckendorf                                                                                 Paige Reuter
Carly Heuer                                                                                                  Olivia Schaenzer
Sarah House                                                                                                 Lauren Schenk
Andrew Hughes                                                                                          Melissa Schmidt
Cassidy Johnson                                                                                         Cassandra Schneiker
Caitlyn Kelberer                                                                                         Caleb Schulz
Abigail Klug                                                                                                 Dylan Schulz
Zachary Kraus                                                                                             Samantha Stiemke
Lauren Kresser                                                                                           Lauren Van Ornum
Hannah Kuehl                                                                                             Ameillia Wedward
Rhaea Lehmann                                                                                         Anna Weyker
Sarah Leurquin                                                                                          Katherine White
Connor Measner                                                                                        Solomon Zarling
                                                                                                                       Zachary Zuleger