Kettle Moraine Lutheran scores a shutout against Ripon | By Jacob Moeller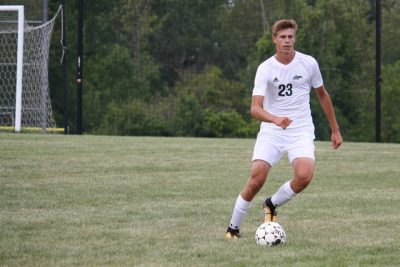 Sept. 21, 2017 – Jackson, WI – Kettle Moraine Lutheran made it four victories in a row with a 3-0 win over Ripon on Thursday.
A beautiful passing combination resulted in a Luke Willis goal in the 8th minute, giving the Chargers a well-deserved lead. Joshua Pahmeier found Jason Rose in the 21st minute to double KML's advantage.
Pahmeier played creator once again in the 59th minute, this time setting up Alec Mueller with a well-placed cross to record his second assist of the afternoon.
The Chargers continued to threaten the Tiger goal for the remainder of the match, but couldn't find another breakthrough, and the score finished 3-0.
With the victory and a Waupun win over Plymouth today, the Chargers are now locked in a three-way tie for the East Central conference lead.
KML continues its pursuit of a first conference championship next Tuesday, traveling to Berlin to face an Indians squad who currently sits in fourth place.
Photo is of Jacob Niemann, courtesy of Paula Asen.