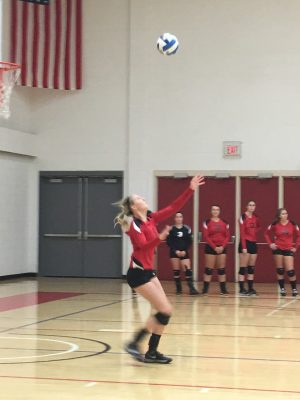 Sept. 21, 2017 – Washington Co., WI – UW-Washington County won its second WCC Eastern Division volleyball match against UW-Fox Valley 25-13, 25-16, 25-11.
The team really focused on strong serving missing six serves out of 68 attempts for a team serving average of 90%.  The team complied 11 ace serves.
"Our offense flowed at a much better pace,: said coach Deb Butschlick. "The players had strong runs at different rotations of plays."
Meghan MacFarlane had 9 kills
Courtney Peters had 6 kills, and 4 ace serves
Ally Weix had 6 kills and 3 ace serves
Kayla Schommer had 45 assists for kills and 5 ace serves.
The Wildcats are 1 – 1 in the WCC Eastern Division Conference and 4 – 1 overall.
UW-WC next plays Saturday, Sept. 23 at noon against UW-Baraboo.