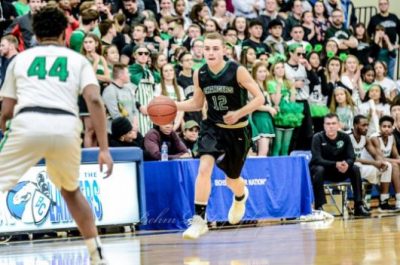 March 11, 2018 – Jackson, WI – The seedings for the WIAA Boys Basketball state finals have been announced, and Kettle Moraine Lutheran received a No. 4 ranking.
The Chargers will face No. 1 seed Valders at 1:35 p.m. Thursday, March 15 at the University of Wisconsin-Madison's Kohl Center.
The Vikings are coming off an incredible 59-57 victory against Xavier on Saturday, ending the No. 1 ranked and defending Division 3 champion Hawks' 53 game winning streak.
Senior Kyle Tuma leads Valders with 15 points per game this season, including 17 in the victory over Xavier.
For the Chargers, Solomon Zarling has averaged 15.4 points in five state tournament games, including 23 in the sectional semifinal victory over Dominican.
Zach Zuleger averages 14.2 points and 13.2 rebounds per contest during state, and was absolutely dominant on the glass in sectionals, pulling down 33 boards in games against Dominican and Waupun.
Only a sophomore, Jacob Stoltz has played some huge minutes for the Chargers down the stretch, averaging 12.2 points this postseason, including 21 points to help spark a comeback victory over Obama SCTE in the regional semifinal.
Grant Biesterfeld has driven the Charger offense with excellent ball handling and accurate passing, putting up 4 assists per game and playing the full 36 minutes in three of the Chargers' five tournament games, as well as a 40 minute performance in the overtime victory over Obama.
Though he may not show up much on the stat sheet, Brandon Heckendorf has been an integral part of KML's success, scoring key baskets in critical moments and popping up to scrap for loose balls and take charges.
Heckendorf's heart and willingness to put his body on the line helps drive the Chargers' sensational team defense.
This defense will face a tough test against Valders, who has three players averaging double figures in points on the season.
The winner of this matchup will take on either No. 2 seed Prescott or No. 3 East Troy for the Division 3 championship game on Saturday, March 17.

Photo is of Jacob Stoltz, courtesy of Diane Behm