March 8, 2020 – Jackson, WI – Twenty-four hours after playing USM, Kettle Moraine Lutheran (KML) took on the Lake Country Lutheran (LCL) Lightning for the regional finals of the Division 3 WIAA 2020 Boys Basketball Tournament. The Chargers were able to come out victorious with a final score, 74 – 67.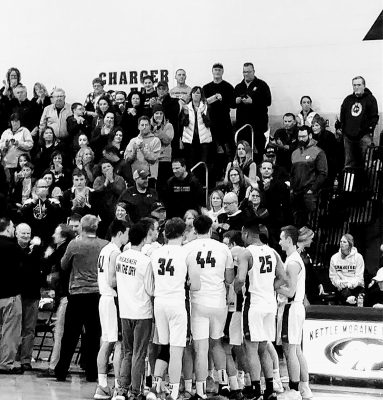 Both schools went into the game with equal records of 20–3. KML's No. 2 seed allowed them to play No. 3 LCL at home.
The stands were packed and additional bleachers were pulled out to accommodate the large crowd. The energy translated to the court and was felt by the players.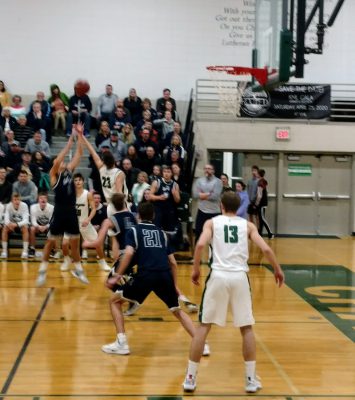 The game started slow with neither team scoring for the first two minutes. LCL was the first to score.
With three minutes left in the first half, the Chargers were able to tie the Lightning. By halftime, the Chargers were up 35 – 32.
Senior Cole Biesterfeld describes the comeback, "We were down by a lot right away, but we had the will to come back. At the end of the day, it comes down to working hard and that's what we did. We've been playing together for a really long time and we know each other so it just kicked in. That chemistry created the comeback."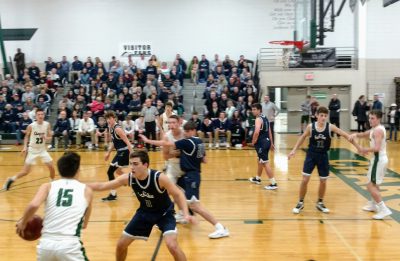 Leading the Charges in scoring was Jacob Stoltz with 28 points. Austin Wagner followed with 17 and Austin Schaff finished with 16.
Looking ahead, Biesterfeld said, "We just won our second regional final. We can enjoy that today, but we have bigger plans. We have to look onto our next game and get ready for that."
An upset resulted in No. 4 Brown Deer defeating No. 1 Dominican at home with a final, 103 – 102. The Chargers will play Brown Deer on March 12 at Brown Deer.