Kettle Moraine Lutheran's winter comedy on the horizon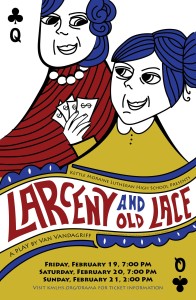 Under the direction of Erin Laabs, Kettle Moraine Lutheran High School teacher and head of the drama department, Kettle will be performing its winter drama later this month, a comedy titled Larceny and Old Lace. Laabs is confident the audience will love her cast's production. "They've put countless hours of hard work into the show to make it as entertaining, riveting, and unique as possible," she said.
Though auditions can drastically change the type of cast in a KML production, Laabs feels the group isn't uncommon compared to past years. "Each cast of productions here tends to be a mix of experience levels," she said. "This one has a pretty typical mix, several 'veterans' of KML drama productions, several who have only been in one or two and a couple who have never done this before."
Senior leadership in high school tends to be a dominating trait of many clubs and sports teams. Though the seniors certainly do exhibit great leadership qualities, Laabs feels "it's not just the seniors… every member of the cast has to be a leader at certain times, as is the case on any team."
One of the senior leaders, Ryan Gurgel, is content with ending his KML acting career with Larceny and Old Lace. "It's a really outlandish comedy like no other show I've been a part of before. This show also has six seniors acting for their final time at KML, and this show will be a fun one to go out with," he said.
The production is Feb. 19-20 at 7 p.m. as well as a 2 p.m. performance on Feb. 21 at KML's PAC. Tickets will be sold at the door, priced at $8 for adults and $6 for K-12 Students and seniors 65+.
The cast is practicing on a nightly basis to prepare, and Laabs is looking forward to the first show. "There is always more work to be done, and we will be working hard to perfect every single detail until the moment the show opens on Feb. 19," she said.
Artwork by Andrea Adams