Kettle Moraine State Forest Thursday Evening Exploration "Urban Wild Canines" coming up on July 25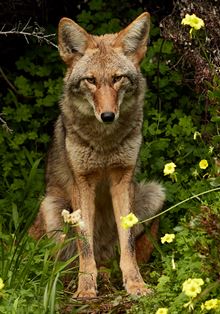 Washington County, WI – Kettle Moraine State Forest – Northern Unit presents "Urban Wild Canines" for the next
Thursday Evening Exploration. The program will be held on Thursday, July 25, from 7:00 p.m. to 8:30 p.m. at the Ice Age Visitor Center. The Center is located at N2875 Hwy 67, Campbellsport, which is half mile west of Dundee. Thanks to the support of the Friends of the Kettle Moraine, the program is free, but donations are always gratefully accepted.
Since 2014, the UW-Madison Urban Canid Project researches have been live trapping and radio collaring red foxes and coyotes in Madison, WI. They wanted to learn more about how these wild canines survive in a human dominated landscape. Through this project, the researchers uncovered an unusual relationship between these two traditionally antagonistic species that is unique to the urban area. The evening's presenter, David Drake is an UW-Extension Wildlife Specialist and Professor at UW-Madison as well as the lead researcher on Urban Canid Project. In his presentation, he will detail the relationship between urban-dwelling foxes and coyote, plus share information on the methods they use to catch, radio collar, and track these animals.
For further information, contact staff at the Ice Age Visitor Center. The center's phone number is 920-533-8322 and is open Monday through Friday from 8:30 a.m. to 4:00 p.m., and on Saturday and Sunday from 9:30 a.m. to 5:00 p.m.