Kewaskum, WI – The annual Kewaskum Christmas Parade is Sunday, December 4, 2022. The theme is "Christmas in the Tropics"

Merry Christmas! Welcome to the Kewaskum Chamber Christmas Parade.
THANK YOU FOR PARTICIPATING IN THIS YEAR'S PARADE! Here is the
information you and your group will need for the parade.
Click HERE to SUBSCRIBE to FREE local news at
The parade lineup and route will be the same as last year. The lineup will begin between Regal Ware and the football field.
All parade participants should line up by turning off Hwy 45 (right if coming from the south, left if coming from the north) onto Old Fond du Lac Ave., right on to Wildlife Dr.
Follow Wildlife and turn right on Reigle Dr. PARADE OFFICIALS WILL DIRECT YOU FROM THAT POINT. The lineup will begin on First St. and then follow along Reigle Dr.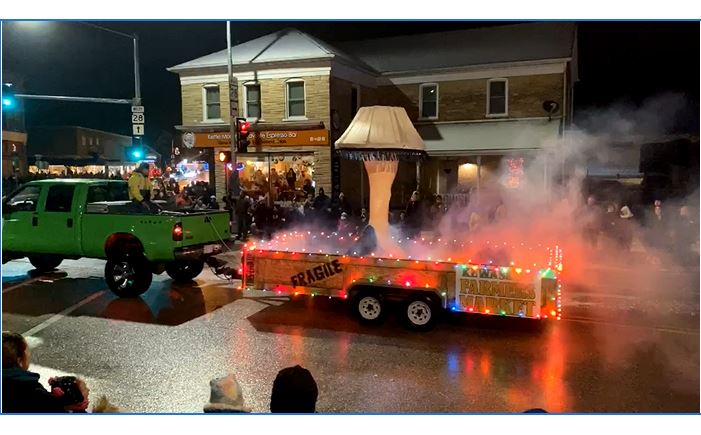 The parade will then start on 3rd St. which turns into Parkview, continue on
Parkview to Main St, turn right on Fond du Lac Ave, and right on First St. Parade
ends by Engelhardt Dairy.
Please arrive at Kewaskum High School between 3:45 p.m. – 4:30 p.m. You will be directed where to go from there. If your float is unfinished and you have another vehicle to assist with finishing, please complete it in the Regal Ware parking lot across the street before entering the lineup.
Parade participants that are walking or joining a float may be dropped off in front
of the high school BY 4:30 p.m. The High School cafeteria will be open starting at
3:30 p.m for your group to use as a meeting area, restrooms, and warming area.
Please inform your group to meet in the cafeteria area by 4:30 p.m.
Parking is available in front of the High School or in the Regal parking lot (In front
of the district office).
Your float will be assigned a number on the night of the parade.
IF YOU ARE HANDING OUT CANDY- PLEASE DO NOT THROW IT FROM YOUR FLOAT. FOR SAFETY REASONS IT MUST BE HANDED OUT BY SOMEONE WALKING WITH YOUR GROUP.
NO SANTAS ON FLOATS OR IN THE PARADE. SANTA WILL BE RIDING THE LAST FLOAT.
5 p.m. SHARP PARADE START
If you have any questions or concerns, please contact Katie at 414-349-4773.
A BIG THANK YOU TO ALL WHO PARTICIPATED IN THIS YEAR'S CHRISTMAS PARADE!
This year's parade brought to you by the Kewaskum Chamber of Commerce.