March 14, 2023 – Kewaskum, WI – Fresh off a No. 1 finish and WIAA State Title performance comes word three members of the Kewaskum State Championship basketball team have made the Wisconsin Basketball Coaches Association (WBCA) Division 3 All-State Team.
Senior Madilyn Dogs was named 1st Team WBCA All-State and seniors Julia Steger and Morgan Adams were named Honorable Mention, or as coach Mark Maley sees it "2nd Team WBCA All-State."
Maley praised the team and the WBCA announcement. "At the end of the season, we were one of the best teams," he said. "State is always a combination of luck and good fortune but at the end, we knew exactly who we were, and we were going to slow it down. Everybody else wants to play fast. We're going to play slow. Everybody else is going shoot a bunch of threes but I told him I was going to Taser them if we took more than six a game, which is exactly I think what we took in the finals."
Click HERE to SUBSCRIBE to FREE local news at
No. 3 Kewaskum stunned a very athletic No. 4 Milwaukee Academy of Science in the WIAA D3 state final. "People in Kewaskum will forever compare this win to being at the Ice Bowl," said Maley comparing the victory to the 1967 NFL Championship Game at Lambeau Field when the Packers beat the Cowboys 21 -17 in subzero temps.
Three days after the win, Maley said little 'ole Kewaskum is still reveling in the 55-51 victory over MAS. "You know, it seems like everybody's pretty happy today, although I think most of the townspeople of Kewaskum are still hungover from Saturday night."
Madi Dogs finished with 29 points in the tournament at the Resch Center. She had 20 total rebounds and 8 blocked shots. Maley said Dogs deserved to make the first team. "This is Madi's third year on the team, so not a total surprise," said Maley. "What she did in the championship game is what she basically did for three years, she filled up the stat sheet, she would score, rebound, have assists and block shots. At 6-1 she would guard the other team's best players; she had a unique skill set."
Maley credited Steger and Adams with stepping up their game and turning the season around. "Having Julia and Morgan, basically come out as veteran players and really, it was heartwarming, because each of them stepped up when Madi was hurt and that's really when the season turned around," said Maley. "For three games, we won all three. One of the things I said about our offense was the best part about this team was nobody cared who scored and that began the string of winning the last 15."
Couple of bullet points:
–  Madi Dogs tied a WIAA State Tournament record for blocked shots. She finished her high school career with 1,145 points and 692 rebounds.
– Team captain(s): Madi Dogs, Morgan Adams, Julia Steger, Grace Leitheiser
Coming up, watch for All-Conference selections to be announced. Early word is Dogs was a unanimous choice for 1st team; this will be her third year in a row as a member of 1st team All-Conference. Morgan Adams and Julia Steger will reportedly be named to 2nd team All-Conference.
Dogs is also expected to be named to the All-Defensive team.
The Kewaskum girls team have a 3.87 Grade Point Average
Dogs has a NCAA D1 full ride to New Jersey Institute of Technology (NJIT) of the America East Conference.
Steger will be running track at UW Oshkosh
Grace Leitheiser will be playing softball at Bryant & Stratton
Hayley Butschlick will be playing basketball at Carthage College
Morgan Adams has several D2 and D3 offers to play basketball but hasn't decided yet.
Regionally, Mackenzie Luehring, Soph., from Kettle Moraine Lutheran was also named Honorable Mention. The full list of 2023 WBCA All-State Team is below.
Division 3 WBCA All-State Team
Lydia Aalsma, Soph., Waupun
Madi Dogs, Sr., Kewaskum
Lalani Ellis, Sr., Milwaukee Academy of Science
Kayl Petersen, Jr., Waupun
Sadie Jarmolowicz, Sr., Freedom
Megan Johnson, Soph., West Salem
Ashlyn Knapp, Sr., Prairie du Chien
Keona McGee, Jr., Dominican
Bella Pitta, Sr., Lake Mills
Megan Schuman, Sr., Brillion
Beautiful Waheed, Sr., Milwaukee Academy of Science
Honorable Mention 
Morgan Adams, Sr., Kewaskum
Sydney Bartels, Sr., Freedom
Alicia Burgos, Sr., Dominican
Abbie Dix, Sr., Brodhead
Charlotte Ferstl, Sr., River Valley
Sylvia Fox, Sr., Edgerton
Hattie Fox, Sr., Osceola
Gracie Gopalan, Jr., Waupun
Ameerah Grant, Soph., Brown Deer
Mya Hartjes, Sr., University School
Molly Janke, Jr., Ellsworth
Ayianna Johnson, Sr., Jefferson
Ady Ketterhagen, Frosh., Oostburg
Mackenzie Luehring, Soph., Kettle Moraine Lutheran
Anna McConkey, Sr., West Salem
Maria Messling, Sr., Evansville
Camryn Nies, Sr., Platteville
Tieryn Plasch, Sr., Northwestern
Lila Posthuma, Jr., Prescott
Ellie Schiszik, Soph., Elk Mound
Sarah Strande, Sr., Racine Lutheran
Julia Steger, Sr., Kewaskum
Alyssa Wirth, Jr., Altoona
Green Bay, WI – On Saturday, March 11, 2023 at the Resch Center in Green Bay, Wi the Kewaskum High School girls basketball team made school history. With a 70-year-old coach at the helm the spirited Indians faced off against a tenacious Milwaukee Academy of Science team that liked to run and shoot and run and shoot and run and shoot.
Kewaskum managed to control the tempo and used a disciplined approach to take home the WIAA D3 State Championship on a 55 -51 victory.
Coach Mark Maley – "I thought we had given it away in the second half a little bit, they made a nice comeback, but we steadied ourselves and we've done that all season."
Julia Steger finishing with 23 points. "Yesterday I was more frustrated personally with myself … I really wanted to push myself to be better today and just the fact it was the state champion. There's something inside me knowing that it's my last game and I just found something in me and it just kept me going."
Madi Dogs – Challenging start to the season with a new coach. "The transition was just really hard but once we slowly understood more and tried getting away from the old stuff, we finally started accepting new things and everything just started clicking really well."
Madi Dogs – Post game celebration. "The whole weekend after our first game was over one of our teammates threw herself on the floor and expected us to jump on her. To be able to celebrate with my team and my best friends like that it's just so special and it was way better than I ever could have imagined."
Julia Steger – Post game celebration. "The first person I saw on the floor was Maddie and it was just so fun, everyone had big smiles and was giggling. It was just how you could picture it in a movie it was great.
Madi Dogs – Approaching last game. "One thing I told everyone before the game was, we know it's our last game we just have to go out there and have fun and I feel like this is exactly what we did and that's what means the most; it was so much fun."
Julia Steger – Fan support. "We were getting interviewed before and then we were walking back and we kind of just stopped for a moment and really soaked in today and appreciated how big our community has been in this journey, and we really want to thank them we have the best fans it means the world to us."
Click HERE to SUBSCRIBE to FREE local news at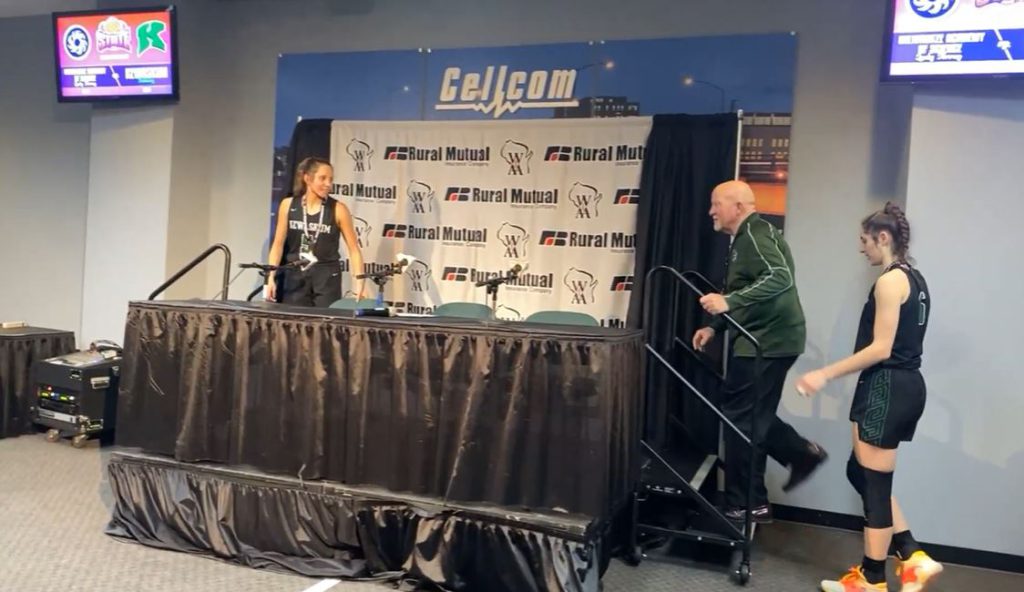 Click HERE for final stats from the D3 championship game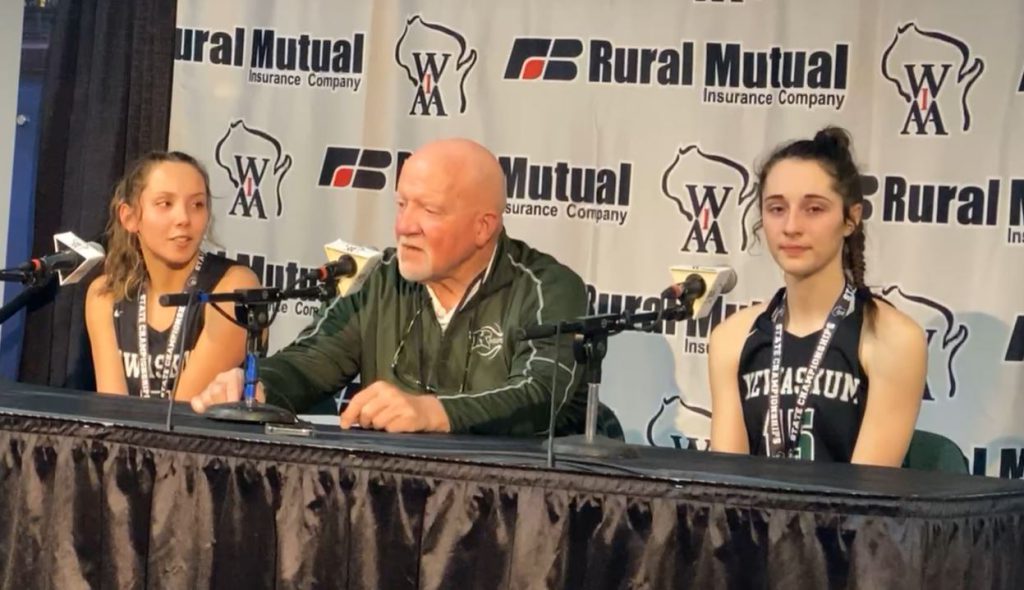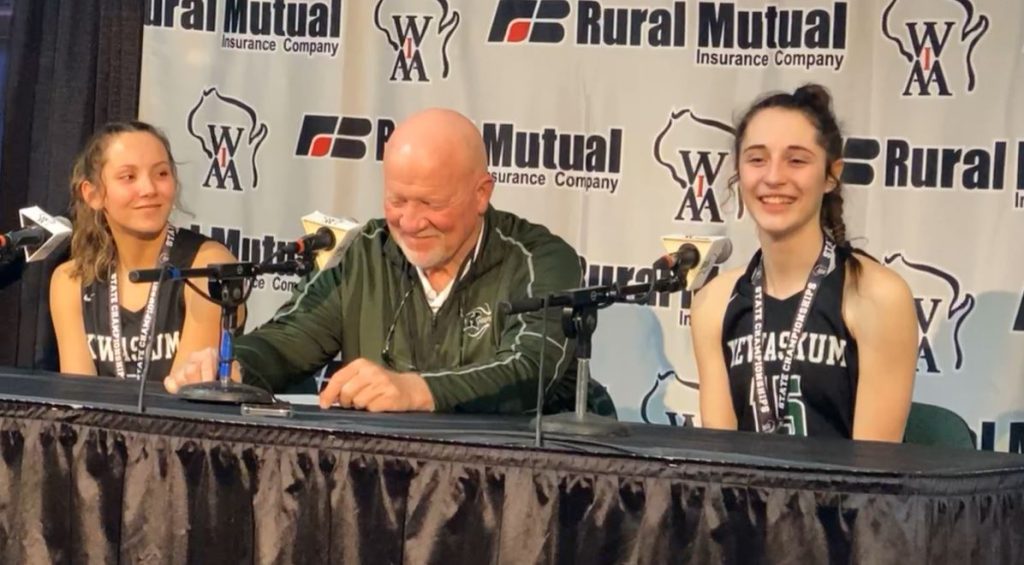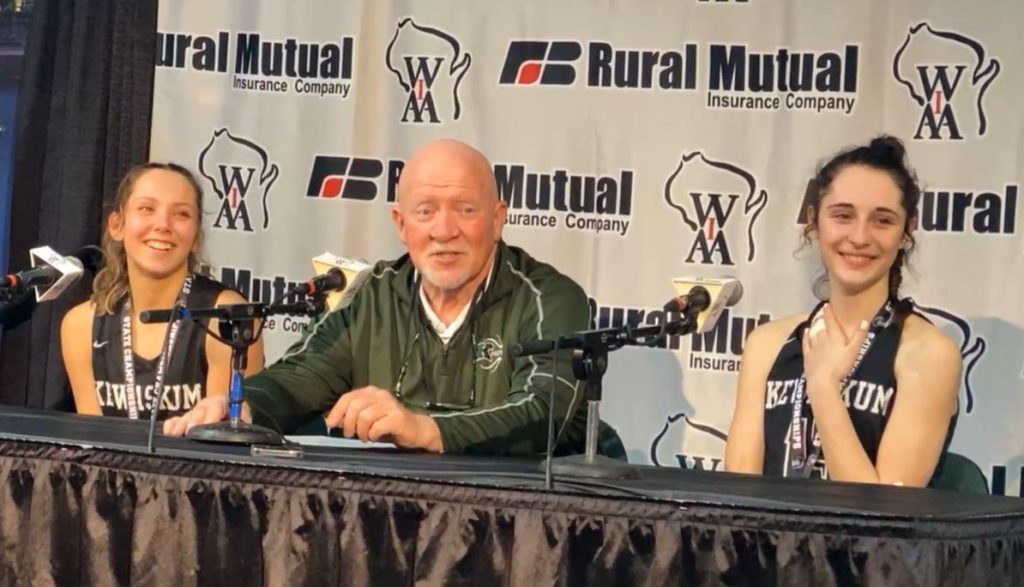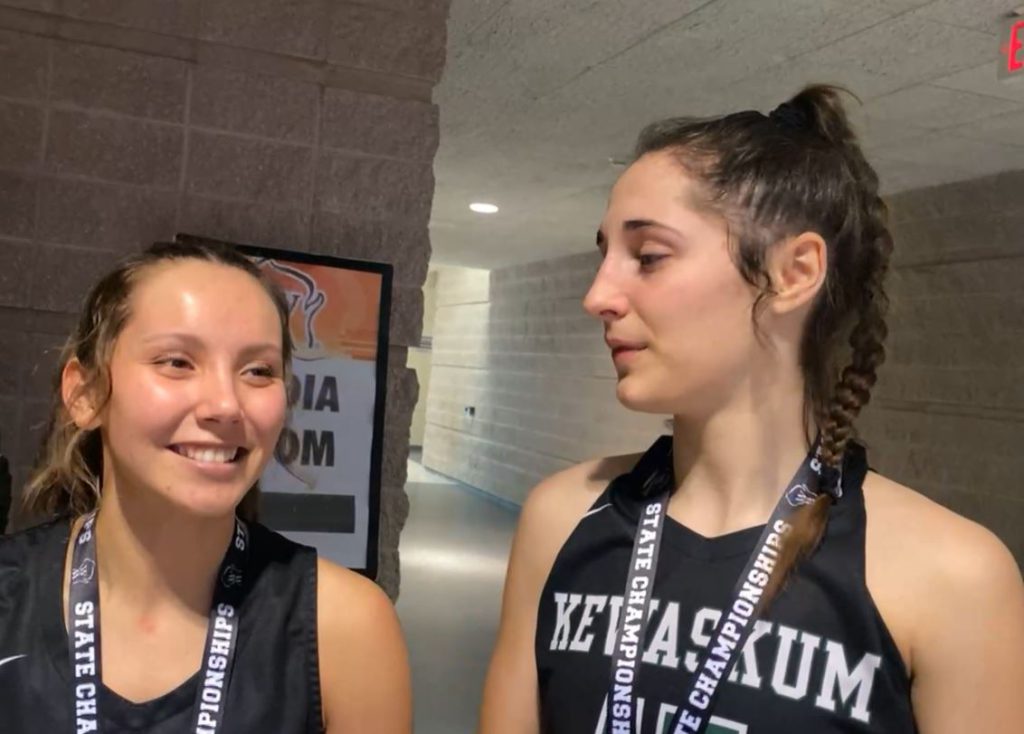 The mighty Julia Steger led all scores with 23 points and 10 rebounds.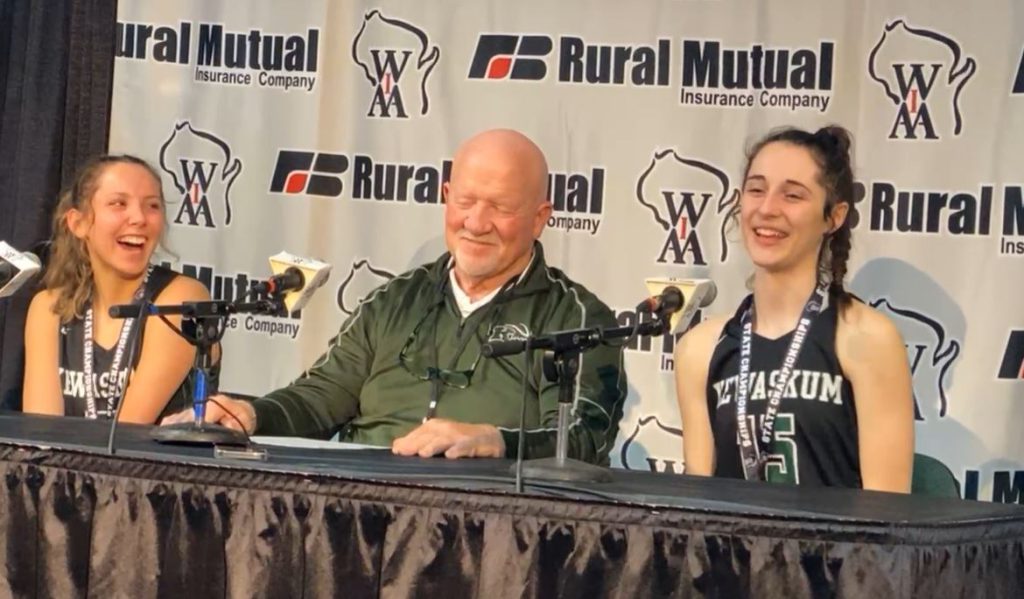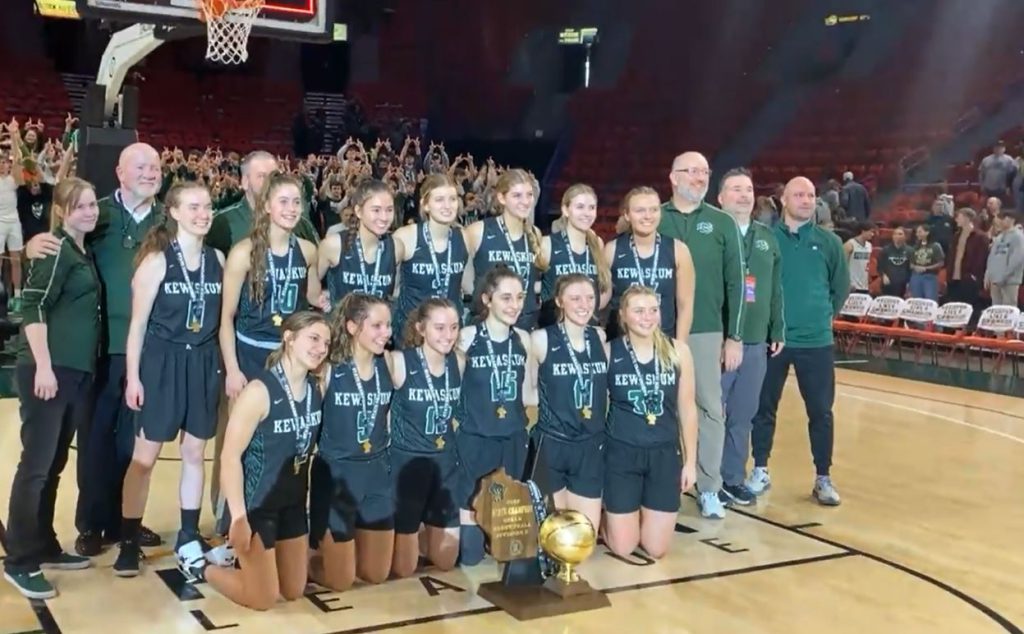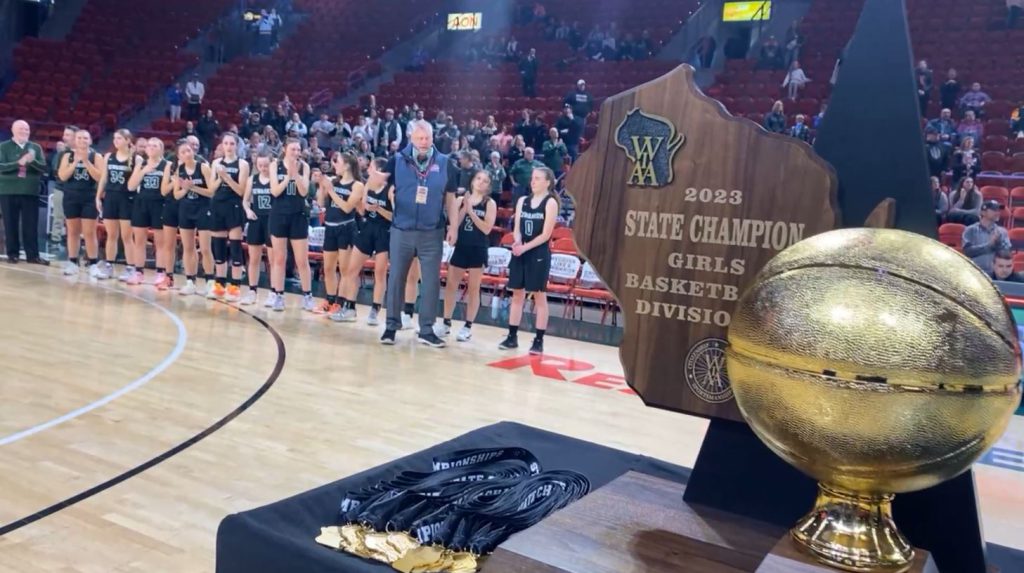 An emotional moment between assistant coach Kory Dogs and his daughter Madi.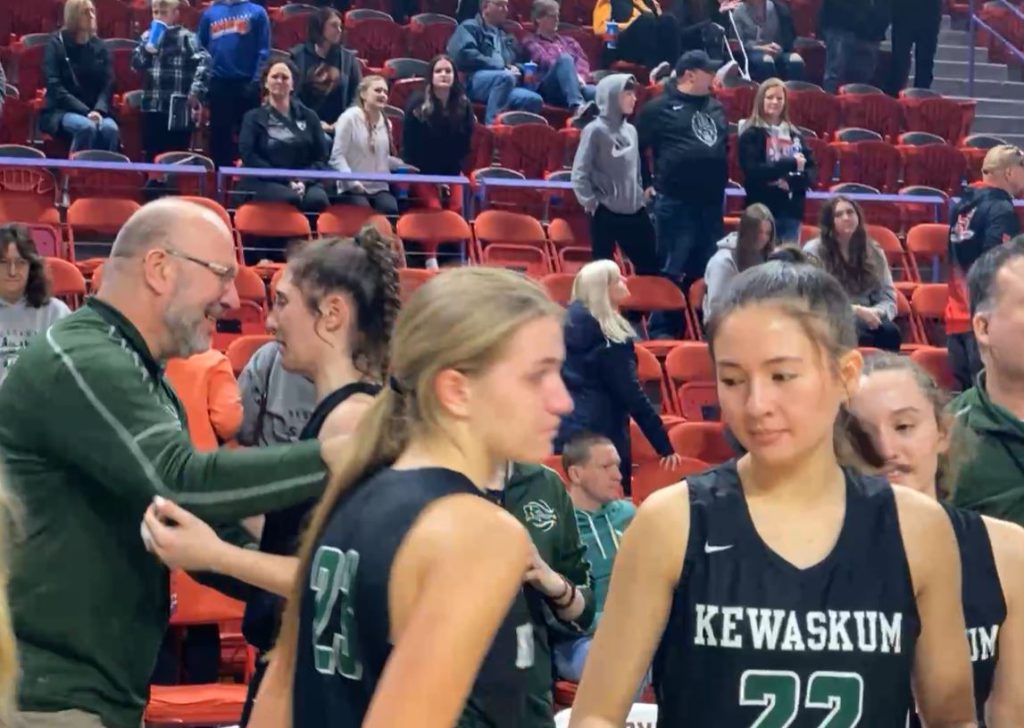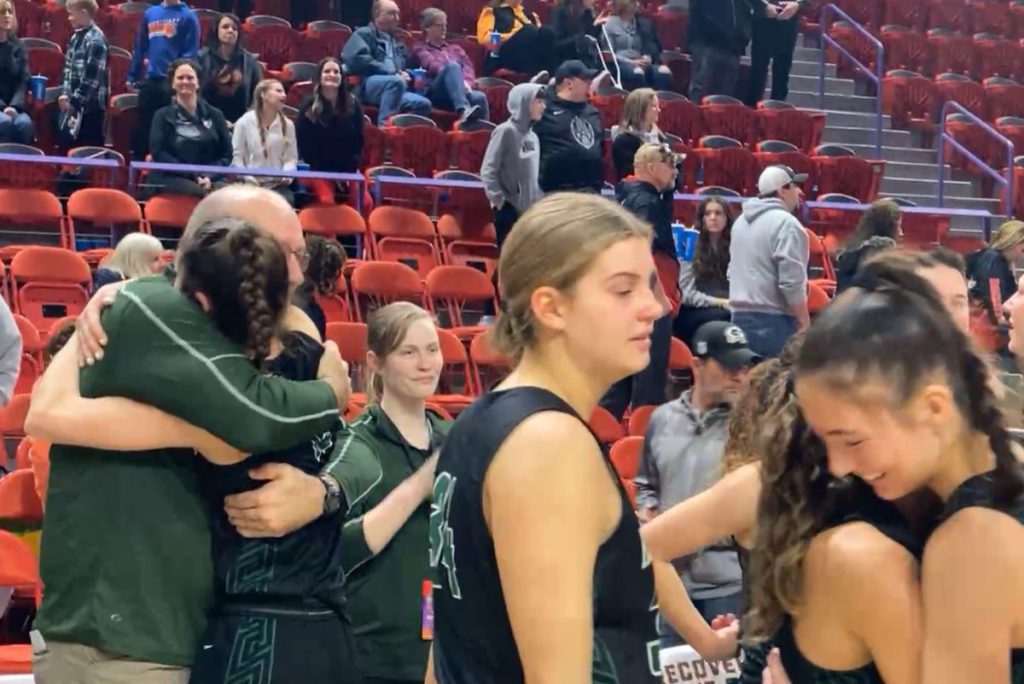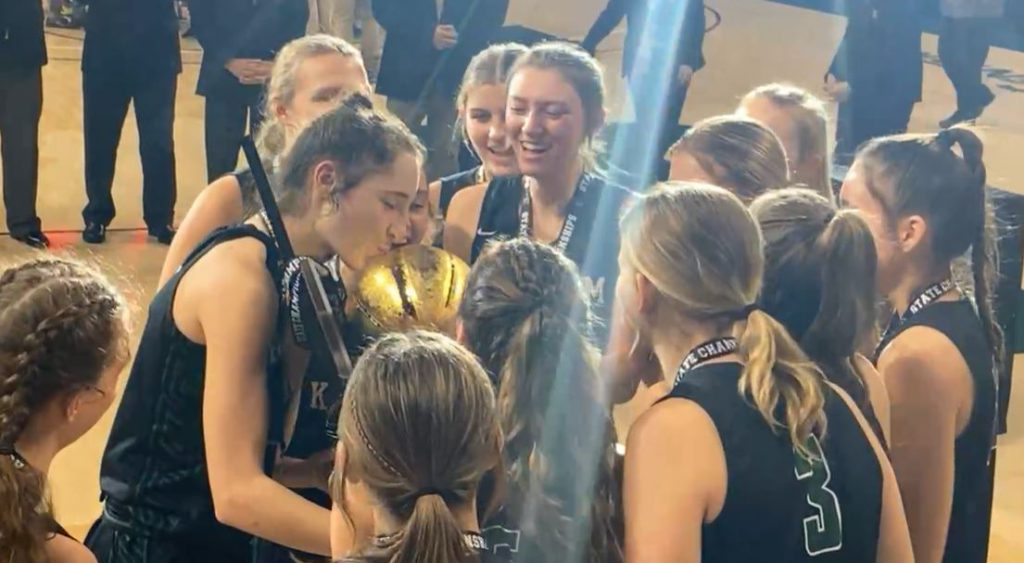 In the postgame press conference Madi Dogs, who finished with 13 points and 9 rebounds, said the team jokingly practiced the post-game victory pile on. "It was more fun than I imagined," said Dogs.
There was a celebratory parade into town Saturday night with the Kewaskum Fire Department leading the way.
Watch for more photos and videos at washingtoncountyinsider.com