Kewaskum Indians remain undefeated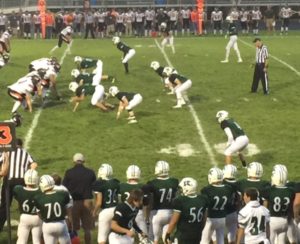 Kewaskum improves to 4-0 as they beat Ripon 28-13.
A positive defensive game for Kewaskum with 3 defensive interceptions by Alex Vogt with one for a touchdown.
Tommy Strom returns to play since game one with a sack.
Offense started fast with 28-yard TD pass from Poole to Brady Hanson and then a 21-yard pass to Tony Steger.
Poole threw three interceptions  with Ripon only scoring on one.
The special team play of the game came when Kyle Pamperin returned a punt for a 90-yard TD.
Kewaskum hosts Waupun next week Friday.
On another note, the Slinger Owls lost to Beaver Dam 17 – 10.  Hat tip Ron Naab.