KML Chargers improve to 4-1-2 with road win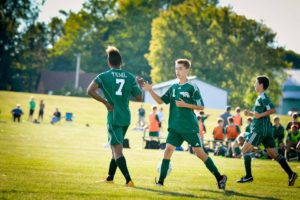 The Kettle Moraine Lutheran boys soccer team rolled past the Winneconne Wolves on Tuesday, taking the game by a convincing 5-1 score.
The Wolves pounced early on the Chargers, when senior Daniel Knitts stole an errant pass and put Winneconne on the board.
The strike put the home side on top just three minutes into the contest. From there it was all Kettle Moraine, as junior Joseph Raasch tied the match at 17 minutes, and freshman Ethan Duba added another goal two minutes later.
KML took this lead into the half, but there was plenty of room for improvement in the second frame.
The Chargers took the field for the second half with renewed focus, and it showed.
Joseph Raasch found the net twice in rapid succession, giving him his second hat trick on the year.
Sophomore Jake Semenske also was on target, giving KML a healthy 5-1 advantage.
Another solid conference victory moves the Chargers to 4-1-2 on the year, while Winneconne drops to 1-6-0.
KML hosts East Central Conference leaders Campbellsport on Thursday.
Photo courtesy Diane Behm.