Kwik Trip and Mad Max on council docket tonight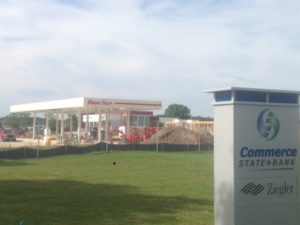 The West Bend Common Council meets at 6 p.m. and one of the items on the agenda includes an Original Class A Combination Liquor License for Kwik Trip, Inc., 1750 S. Silverbrook Drive.
The new gas station/convenience store is expected to open for business by October.
Another item on the agenda is a long term storm water maintenance agreement for 1229 and 1221 S. Main Street, the location of the soon-to-be-remodeled/expanded Mad Max gas station.
The proposed development includes a new 4,750-square-foot building as a gas station with four fueling stations and a drive through coffee shop. The proposed onsite storm sewer will be oversized to provide storage for the design storms and will ensure the downstream storm sewer system will bot become surcharged due to the proposed development.
Also on tonight's agenda:
-The mayor will appoint Thomas Cunningham to the Fire Prevention Board. Cunningham is a Marquette University grad with a Bachelor degree in science and business administration. Cunningham has lived in West Bend for 18 years and he is a marketing director for a financial service company.
-The council will also pay tribute to Rob Chalifoux for his 25 years of service to the city. Chalifoux started as a master electrician in West Bend on Sept. 9, 1991.  The mayor's resolution will read, "Robert is a dedicated employee who is known for his constant smile, singing and sense of humor."
-The city will also approve a transfer of $1,050.51 from the Park and Recreation Capital fund to purchase play equipment for Villa Park.