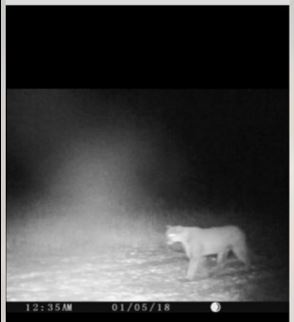 Jan. 24, 2018 – Fond du Lac, Co. – A very large cat moved through Fond du Lac County early this month. A trail camera captured a photo of the animal in the Rosendale area.
Jane Wiedenhoeft is an assistant large carnivore specialist with the DNR. She said it sure looks like a cougar in the photo.
She said, "Not many photos are as clear as this one. This animal looks pretty obviously like a cougar."
Wiedenhoeft said there were quite a few cougar sightings in Wisconsin last year including sightings last month near Merrill and Antigo.
This may be the first real sighting in Fond du Lac County, although there were reported sightings of a cougar in the Eden area in the summer of 2012.
Wiedenhoeft said typically it's a young male cougar looking for a mate. "Those young males sometimes can disperse pretty far looking for a mate. And they get this far and they have a long ways to go to find any other cougars so they just usually keep going," she said.
The tail camera photo was caught Jan. 5, 2018 in the Rosendale area. Wiedenhoeft said this was the latest sighting of a cougar in the state and the farthest south.