Last call for landmark supper club Coachman House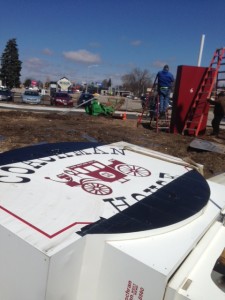 Another local landmark had its last call as the sign for the Coachman House, 1006 S. Main St., in West Bend was dismantled Monday.
The local supper club opened in 1973 by Glenn Peterson. Prior to that, the location on S. Main Street was home in  1948 to Ott and Anne's Custard. Later a couple sisters bought it and changed the name to Prudy's Restaurant.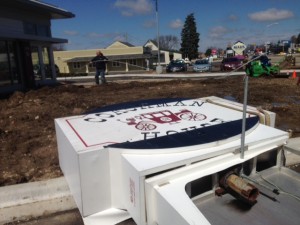 "They were a family restaurant known for their rotisserie chicken on Sundays," said former owner Glenn Peterson. The restaurant had a counter with about 10 or 12 stools and there were three or four tables with two chairs a piece.
West Bender Jerry Mehring said he and his brother would go to Prudy's regularly in the early 1960s when they were done with work around 11 p.m. "The grill was right behind the counter so you could watch them fry your hamburger," said Mehring.
"They did big business with the Gehl Company serving lunch for the second shift. They would have the bags on the counter with the person's name on it and what they ordered. I don't remember who delivered them but one of the gals was married and her husband was always around he may have done the deliveries. He had a wooden leg," recalled Mehring.
In 1969 Peterson bought the business. At the time, Peterson already had Glenn's Grill and Restaurant on the north end of town; it was near the Clark service station, what is now West Bend's Rotary Skate Park.
Peterson called the place on South Main Glenn's Grill II; some in town referred to it as Glenn's Other Place. Peterson ran the two Grills in conjunction for five years and then in May 1973 he remodeled the south-side location and changed the name to The Coachman House Supper Club.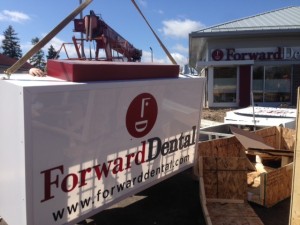 "I just kind of thought I wanted to get out of the hamburger business and get into the supper-club business with steaks and dinner and cocktails," he said.
Although Peterson retired in 1997 and sold the business he said that location will always be known as The Coachman House. "It's been that for almost 40 years," he said. "We were really in prime time; we were running when the Outlet Mall came into business and there were no better-dining places in West Bend."
"It was just a wonderful, wonderful time in business," said Peterson. "I had excellent help for more than 30 years. I really miss it."
In 1997 after Peterson retired he sold The Coachman House to Harry and Joanne Zimdars; in July 2011 Meredith Immekus took over.
Forward Dental opened earlier this year and the new street sign with an LED board was installed Monday.