There are 16 veterans from Washington County going on April's Stars and Stripes Honor Flight to Washington D.C.
Kewaskum's Wally Daggett, 86, a Korean War veteran will be on that flight. "I enlisted in the Army Air Corp. when I was 19 years old," said Daggett. "I had a good job working at the West Bend Company in development engineering but I went into the service and was shipped to Biloxi, Mississippi."

The year was 1949 and Daggett was sent to airplane engine mechanic school for eight months.

A self-described "country kid who had average grades" Daggett ended up advancing through nearly a dozen schools learning everything about planes and engines.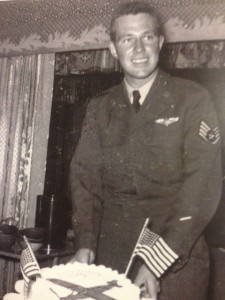 "I can't understand how come they sent me to all these different types of schools but I must have caught on to engines," he said.

Sitting in a wheelchair in his room on the second floor of the Samaritan Home, Daggett shares stories of his seven years in service. "I first was station in Mississippi where it was really hot," he said. "I finished school and then they sent me to the Arctic for a year and a half."

Daggett continued as a mechanic but also went along as an observer with Air and Sea Rescue.

"A couple of times the Air Force threatened to make an instructor out of me but I said I didn't join the service to be an instructor, I'd rather have active duty," he said.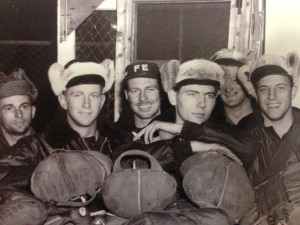 The next assignment was a short 5-month stint in Massachusetts and then Daggett was tabbed to be a senior mechanic on engines and he went to flight engineer school and stationed at Chanute Air Force Base in Rantoul, Illinois.

"After 10 months I went to a B-29 crew as a flight engineer and then they needed bomber crews in North Korea and I was shipped overseas," he said.

The year was 1952; Daggett's memory is sharp and he tells vivid stories about tours of duty that placed him in Japan working as a flight engineer on a long-range bomber. "I ran that plane," he said. "I knew every nut and bolt in that plane."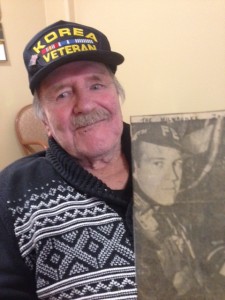 Daggett was sent back to school where he learned to operate a new type of aerial tanker. "That's the one where they have the boom in the back and they fuel in the air," he said. "We could take them all the way from England back to the states and refuel them in the air. I liked that."

Daggett also recalled making a forced landing at the 38th parallel in Korea. "We had been hit with flack, one engine was out and the other was faltering," he said. "Ted Williams escorted us in and he was even running low on fuel."
Not until after the landing did Daggett find out the man who guided them in was actually a famous baseball player. "He actually was shot up a little bit and forced to make a landing at the same airport we did," Daggett said.

Stationed in Korea for seven months, Daggett flew planes until the end of his tour.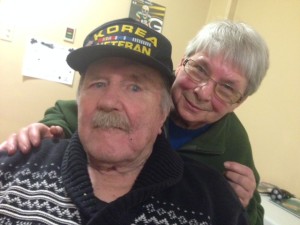 Returning home to his job at the West Bend Company, Daggett met and married his wife Joan.

The couple moved to a dairy farm near Random Lake, had a dozen kids and were part of a precedent-setting case where they sued the power company and won after stray voltage was found on their farm.

Daggett is looking forward to the Honor Flight. His grandson Brian will be his guardian.