Laurel's Camera & Gift opens today at 152 N. Main St.
                                      Matt Fehring is seen through the window cleaning the old store, 239 N. Main St.
Laurel's Camera and Gift is on the move. The locally-owned camera shop along with jeweler  M.F. Diamonds will move from 239 N. Main Street down a block to 152 N. Main Street, formerly home to My Personal Trainor fitness studio, and prior to that Settler's Park Market.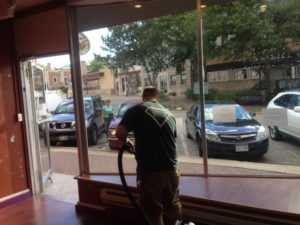 "We're just going down the street a bit," said Pat Fehring from Laurel's Camera.
"We were just looking for a little bigger space so we'll have a backdrop and we can do studio photography as well."
The Fehrings will be sharing the space with their son's jewelry shop, M.F. Diamonds.