Les Belles Voix Concert at Holy Hill Basilica to be directed by Karen Wysocky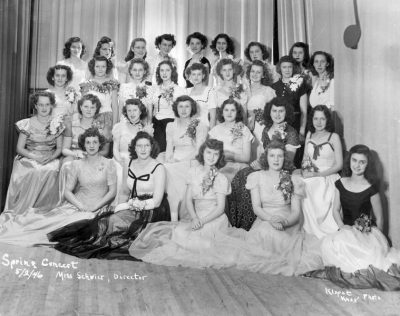 April 6, 2018 – Town of Erin, WI – Les Belles Voix, the Advanced Women's Choir at the University of Wisconsin-Milwaukee, under the direction of Karen Wysocky, will be presenting a concert at Holy Hill Basilica on Friday, April 13 at 7 p.m.
The Homestead Treble Choir under the direction of Kristen Houge, will also be joining Les Belles Voix at this spring celebration concert.
Miss Wysocky is the former choral director at West Bend High Schools, where she taught for 30 years.  While there, her choirs received numerous awards and performed at the Wisconsin State Music Teachers convention, the American Choral Directors and Sweet Adeline's regional conventions.
She is a Rolf's award winner and is in her first year directing the choir at UW-Milwaukee.
The choir will be singing "Let All the World in Every Corner Sing" by Andrea Ramsey, "Ave Maria" by Guy Forbes, "Duo Seraphim Clamabant" by Thomas Victoria, "Walk Together Children" by Stacey Gibbs, "Alleluia" by Paul Basler, and "Ain't I a Woman!" by Susan Borwick.
Both choirs will combine at the end to sing "No Time" by Susan Brumfield.
The concert is free and open to the public.
Photo courtesy www.scpl.lib.in.us