Liquor license approved for ION Sports Pub – new bar / restaurant to open Monday, April 24.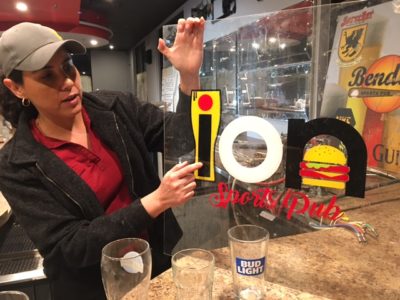 April 18, 2017 – West Bend, WI – ION Sports Pub, 1102 E. Paradise Drive, in West Bend cleared one more hurdle Monday as the West Bend Common Council unanimously approved a Reserve Class B Combination License for the establishment, 1102 E. Paradise Drive.
On Friday a new sign will be posted for the business and Monday, April 24 will be the official opening.
The restaurant is a partnership between Oskar Steinbauer Jr. and Nora Sanchez.
The pair have been working with their families to revamp the former Bender's Sports Bar. There's decorative strip lighting above and below the bar, new carpet, and the addition of 17 big-screen TVs.
In an earlier interview Steinbauer said, "We're going to have a small menu and we'll specialize in gourmet burgers, pizza, wings and fish fries on Friday."
The beer selections will be standard along with IPAs and Guinness.
ION Sports pub will open 11 a.m. for lunch and dinner.
Stay with WashingtonCountyInsider.com as we'll bring you more updates as they become available.