The West Bend School District Private Task Force will spend time running through findings regarding how to deal with facility issues in the West Bend School District following a failed referendum in April 2019.
Members of the Task Force divided their presentation into segments with Kraig Sadownikow presenting an overview followed by Owen Robinson who outlined High School Priorities.  Randy Stark reviewed Elementary and Facilities Deployment and Ed Duquaine and Zimmerman Studios provided various operational considerations.
Kraig Sadownikow – "We challenged ourselves to ask tough questions. It's critical to take a long term, sustainable approach. Over the mid and long term these are best choices.
"It can't be business as usual. Funding and enrollment is declining."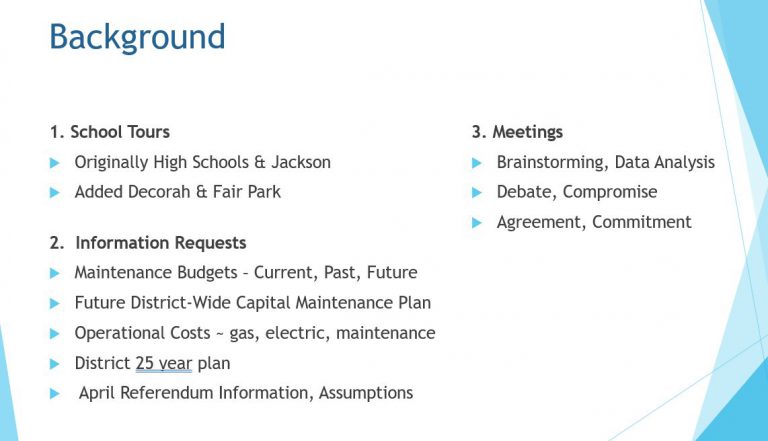 Kraig Sadownikow – "Found a need to use a rolling 25-year plan that's updated. It can't be stagnant. Current decisions are being made using info that's dated. The info is a decade old. Administration should present a plan on an annual basis along with a 5-year public committee.
"As a district there are multiple campuses at wide geographical locations. That means maintaining and monitoring is difficult. This makes operating the district more expensive."
"Communication is critical with residents; currently it isn't transparent. Erring on side of too much communication is better than too little."
"Money is the solution to the problem – more money may not be."
"Finally – the capital maintenance budget is inadequate. It's underfunded. Can't consider a new investment in new facilities without considering how to maintain what we currently have. Building new while avoiding maintenance is a losing situation."
Click HERE for the rest of the report from the Task Force.