Long time vendor at West Bend Farmers' Market dies – obit: Bertha Tackes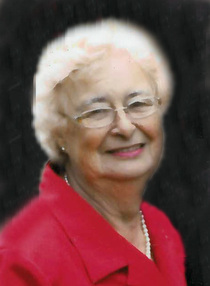 Bertha L. Tackes (nee Unger), age 82, of the Town of Trenton, passed away on Thursday, February 4, 2016.  She was born on March 6, 1933 to Hugo and Alma (nee Zimdars) Unger. She attended St. John Lutheran School in Newburg.  Bertha married Willard Tackes on October 20, 1951 at Holy Trinity Parish in Newburg.  She worked at Amity Leather Products for 39 years and was a vendor at the West Bend Farmer's Market for over 30 years.
Bertha loved cooking, quilting, sewing, crocheting, gardening, fishing, and playing cards.  Willard and Bertha visited 49 states and took a dream vacation in 1981 to Australia and New Zealand.  Above all, she enjoyed time with her family, especially the little ones.
She is survived by her children: Yvonne Tackes, JoAnn Critchley, Gary and Vicki Tackes, Wanda and Dennis Docter, Janette and Tom Schroeder; grandchildren: Jennifer (special friend David), Amanda (Derek), Trisha (Dan), Melissa (fiancé CJ), Tonille (Rick), Cassandra (special friend Jeremy), Andrew (Abeni), Caleb, Blake, Alicia (Paul), Mikayla, Adam (fiancée Alicia), Jonathan; great-grandchildren: Kayla, Machaia, Devon, Kaylie, Hannah, GraceLynn, Kenadie, Jamison, Ethan, Camrynn, Carter, Hailey, Lilian, and two more on the way.  She is further survived by sisters-in-law: Adeline Flasch, Darleen Rochwite, Darceal Jordan, Gladys and Christa Tackes; former son-in-law Randy Critchley; other relatives and friends.
Bertha is preceded in death by her husband, Willard; parents Hugo and Alma; brother Arnold (Gladys) Unger; brothers-in-law and sisters-in-law.
The Mass of Christian Burial will be held on Saturday, February 13, 2016 at 10:00 AM at Holy Trinity Catholic Church (521 Congress St., Newburg, WI  53090) with Fr. Kevin Kowalske presiding.  The Visitation will be held on Friday, February 12, 2016 at the Phillip Funeral Home Chapel (1420 W Paradise Drive, West Bend) from 3:00 PM until 6:00 PM with a Prayer Vigil at 6:00 PM.  Interment will take place at Holy Trinity Cemetery following the Mass on Saturday.