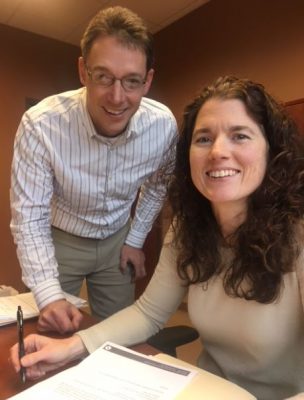 April 14, 2018 – Jackson, WI – A new accounting firm with a couple familiar faces has opened in Jackson.  Schensema CPA, Inc. combines the accounting expertise of Adam Schensema, 42, and his wife Michelle, 41.
The pair have nearly 40 years of combined accounting experience and they are growing their new business off Highway 60 with solid standards of trust and accountability.
"It's the trusted relationships and the personal service," said Michelle. "We're very timely and prompt in getting back to people and we realize we're working on sensitive information and they want to know it's confidential."
Schensema CPA caters to small businesses and offers the full gamut of tax accounting including payroll, tax planning, and advising clients by helping them plan properly for retirement and the future.
"If it's a $275 personal return or a $10,000 business client – we value them equally and we have a great relationship with all of them," Michelle said.
The Schensemas' graduated from Marian University of Wisconsin in Fond du Lac.
Michelle is a West Bender who attended West Bend East High School. "The year 2018 marks my 20th year as an accountant," she said Michelle.
Adam is originally from Canada. "I actually came to the Fond du Lac area to extend my hockey career," he said. "Now I run the adult leagues at the Kettle Moraine Ice Center. I think it's a hidden gem in Washington County."
The Schensemas' have three children; their oldest is a junior at West Bend East High School and two children are at St. Frances Cabrini.
Schensema CPA, Inc. opened the end of October at W227 N16867 Tillie Lake Court, Suite 101. (It's the big three-story building to the northeast of Subway).
"This location in Jackson is really centrally located for us because we have clients in Washington, Ozaukee, Milwaukee County and elsewhere," said Michelle. "The size of the building also gives us room to grow."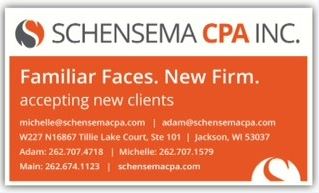 "We've worked with a lot of our clients for a long time so we have a good, solid foundation," said Adam.
In a letter to clients the couple wrote: It has been our honor to build a trusted relationship with you over the years. We look forward to continuing that relationship as we work to meet your future accounting, tax, payroll, planning, and advisory service needs.  We remain dedicated to providing you with the personal, high-quality service you've come to expect with us.
We will be in contact shortly to discuss your immediate needs and a smooth transition, but please don't hesitate to call if you have questions now. We invite you to stop by the new Schensema CPA, Inc. office. We look forward to working with you soon.
Click HERE to visit the Schensema CPA, Inc. website.
Adam & Michelle Schensema
Adam cell 262-707-4718
Michelle cell 262-707-1579