Washington County, WI – Close Up Magic with Caleb Hyatt will be appearing at Bilda's Friess Lake Pub, 4493 Hwy. 167, Hubertus, WI, Thursday, April 21, 2022, from 5:30 p.m. to 8:30 p.m.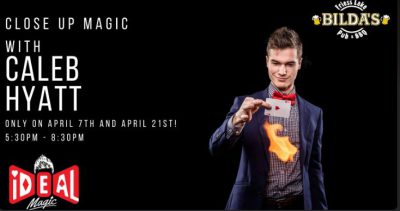 "I wish to make each event I perform special and memorable for every person in the audience. I don't want to simply "perform." I believe in creating an unforgettable experience. I hope that my mind-blowing tricks,  sharp sense of humor, and fun personality will captivate you and show you a side to magic you have never encountered before." ~Caleb Hyatt
The Thursday meal special at Bilda's is the smoked BBQ platter (BBQ ribs, brisket, and tender smoked pork with baked beans, coleslaw & cornbread). Check out the other menu items at Bilda's; there's something for every palate.
Enjoy a delicious Bilda's entree while you witness mind-blowing miracles right at your table!