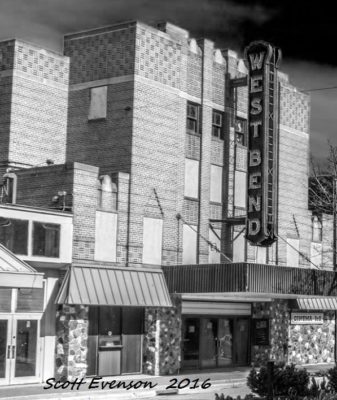 Dec. 26, 2016 – West Bend, WI – The downtown West Bend Theatre remains a hot topic of conversation. During quite a few Christmas get-togethers there was talk about plans to save the façade and marquee and convert the theatre to an open-air park. Others talked about possibly saving the theatre although no plan or means of funding has been presented.
After plans were released some long-time business and building owners on downtown Main Street chimed in with their thoughts and their reaction will probably surprise you.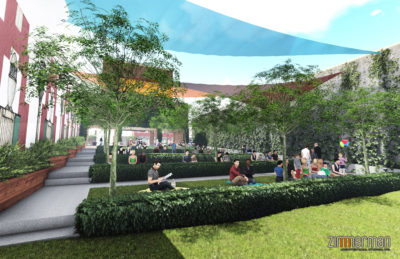 Sager's Men's Apparel has been on Main Street in downtown West Bend since 1932. Second-generation owner Scott Sager has watched many businesses come and go on and he reacted positively to the news about the theatre.
"I think the open-air concept is pretty cool," said Sager. "Matt Prescott is right, it's going to take a bundle of money to get it back to a theatre and then how do you sustain it? How do you make the venue go?"
Sager said it all comes down to dollars and cents. "You can embrace the past but you have to have that forward vision," he said.
During the discussion Sager mentioned the Milwaukee Symphony and how it had its eye on the former Warner Grand Theatre on Wisconsin Ave.  The symphony would like to convert the 1930's theatre into its new concert hall. The cost is $120 million. The building has been unoccupied since 1995 and the sticking point is how to fill the other calendar dates to make for a viable, year-round 1,750 seat facility.
"They're looking at an astronomical amount they have to raise," said Sager.  "And in town we already have UW-WC, the new Silver Lining Art Center at the West Bend High Schools, the Schauer Center in Hartford, and the new amphitheater at the Fair Park. It would be wonderful if someone had an unlimited pile of money and they could do it for fun, but there are some things unfortunately in today's economy that are just not going to be dollar feasible."
Kevin Schultz from Mountain Outfitters was indifferent on any idea. "Whatever makes for a viable situation and doesn't cost the taxpayers or the BID any more money," he said. "The BID shouldn't have had to front the bridge. The BID money could have been better spent elsewhere."
Mary Gamerdinger, Executive Director of Big Brothers Big Sisters of Washington County, has worked downtown since the 1990s. "I really have mixed feelings about it," said Gamerdinger. "I grew up here; I saw my first movie as a kid, Bambi, and I always thought it was a neat balcony and I'd love to see it restored but I don't know the business.
"I don't know if it can compete as a theatre and how much it would be used now with the new theatre at the high school," she said. "I manage an old building here and I know it can be tough but that one is bigger, older and has been sitting empty longer and in the end I'm afraid it's going to come down to what's going to be financially feasible and sustainable."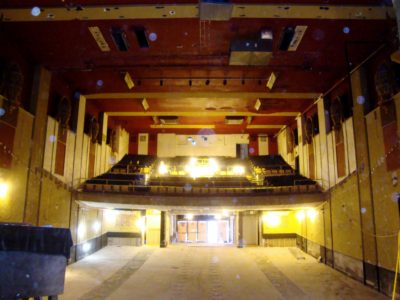 Larry Porter owns a building on N. Main Street and he's a member of the BID Board. "My biggest fear about restoring that – well, everybody wants to go to heave but nobody wants to dies, if you know what I mean," he said. "Everybody says we've got to save the theatre, which is great, but with whose money?
"It's something you're going to have to feed forever; the city doesn't want to pay for it so if you've got some deep endowment pockets go ahead and save it but I don't see that happening," Porter said.
"I see people saying you have to save it, well pony up. To have the plan that Claire is talking about to leave the façade and leave the sign, basically not interrupt the storefronts but have a passageway into this neat park that oversees the river."
Todd Tennies is a second-generation owner of Tennies Ace Hardware. The store has been on S. Main Street since 1964. "Keeping the exterior façade would be great," said Tennies. "The building could be used as a retail department store such as J.C. Penny used to be over there; the building is there it just needs some renovation to be able to adequately represent it as a retail or service oriented location.
"If it were to be a park, if it was a park where you could walk out and look over the river and it joined with the 2017 plan to renovate the riverwalk it would be a neat thing," said Tennies.
As far as rehabbing the theatre, Tennies said there were too many unknowns about how to pay for it and then create revenue.
Tom O'Meara III was heavily involved in the downtown representing the district as an alderman from 1992 – 2004. O'Meara now lives in Utah but has been keeping an eye on West Bend via WashingtonCountyInsider.com.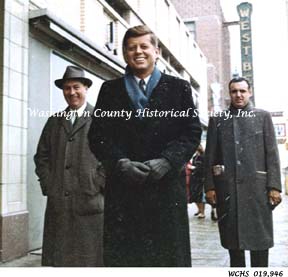 "Claire Rolfs has a great plan with an open air and performance center down near the river and seating on a grass slope, that's marvelous," he said.
"As far as the history is concerned, it was a great theatre and had a beautiful chandelier inside. But saving the façade and the marquee would be really important. When you see the picture of my father and U.S. Senator Jack Kennedy that marquee was in the background. It's a landmark in many respects with that little piece of history."
Coming up: Tomorrow, thoughts from the executive director of The History Center of Washington County and members of the city council weigh in with their reaction.
There were interviews conducted in 2014 as a variety of entertainment outlets were questioned about cost, challenges and viability of running a movie showhouse or concert hall. Read about those findings by clicking HERE.
There was an investor who toured the West Bend Theatre prior to Christmas. Read that story by clicking HERE.
Kennedy photo courtesy The History Center of Washington County