Man drives into Old Settlers' Park – no injuries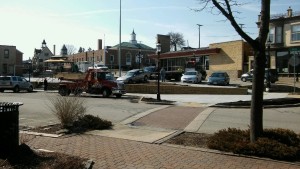 Some excitement in downtown West Bend on Monday morning after a man accidentally drove his vehicle over the curb and the retaining wall and landed in the flower bed at Old Settlers' Park.  The mishap happened just after 11 a.m. in the area by Idle Hour or Two and 215 N. Main, formerly the Ziegler building.
Early word on the street is the man thought he had the vehicle in reverse; he did not. No injuries were reported. No word whether any citations were issued.  Calls have been placed to West Bend PD.
Hat tip photo to Carol Baranyk