September 22, 2020 – Barton, WI – It has been 6 1/2 short years of love, joy, heartache and pain. A lifetime of memories filled by a little boy who, Mason Jeffery Holbrook, who affected so many. Today we say our final goodbye.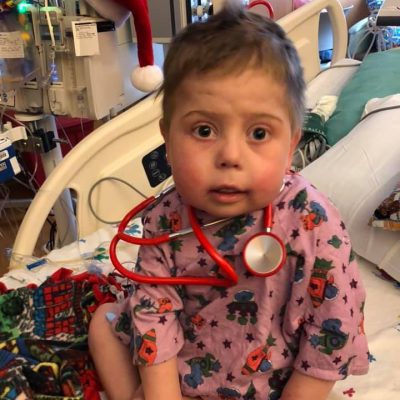 He had been doing so well and beyond many's expectations of recovery after his last event. Unfortunately this past weekend Mason suffered a clot to his spleen, had a stroke in his brain and abruptly started bleeding in his head and having seizures.
The brain damage was catastrophic and chance of recovery with any kind of life was extremely unlikely. The decision was made to let him be in peace and soar with the angels.
He has been held on life support for the last day in order to allow one last stroll through the halls in order for him to affect even more people with his donation of his kidneys to save another's life.
Mason will forever be remembered by those who were touched by him. No matter what the circumstances, he had a tendency to make you smile. Mason has proven to never give up and never underestimate the little guy. He did things on his schedule and kept everyone on their toes and looking for new avenues.
A big THANK YOU to the staff of Children's Hospital for all they did for Mason and us.
We consider you family and you helped us so much on this journey. Hopefully Mason helped you also and his case will allow you to help others who find themselves in similar situations.
Thank you to all those who have been part of his journey, through thoughts, prayers donations, fundraisers etc.
Those he has met and those he has not, yet still follow his story.  Click
HERE
for more details.
Mason Jeffery Holbrook
March 28, 2014 – September 22, 2020
Service details will be posted when information becomes available.
If anyone would like to send cards our address is 6655 Trenton Rd, West Bend Wisconsin 53090
Any donation you would like to send to the family you can do so by  Venmo – Kay-Holbrook