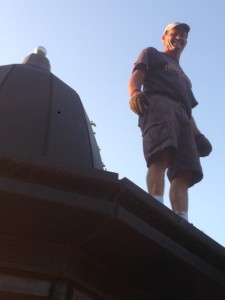 March 7, 2017 – West Bend, WI – Recognize this guy? He's been hired to take down West Bend's famous bridge to nowhere.
During this week's common council meeting a bid of $24,500 was approved for West Bend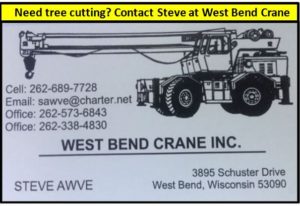 Crane, Inc.
Steve Awve owns the company. He's got a bit of a cowboy reputation around these parts.
Awve was the one who moved the gazebo from Old Settler's Park to the former Schwai's / Bibingers in Cedar Creek. That relocation was full of excitement…. including low-hanging phone lines and bees.
Awve's work also has ties to the rebuild of Timmer's Restaurant on Big Cedar Lake and he was the guy Matt Prescott hired to drop the second-floor balcony and return the downtown West Bend Theatre to its original layout.
Awve will begin work shortly removing the bridge that runs over the Milwaukee River between Service Drive and Veterans Avenue. The West Bend Business Improvement District is on the hook to cover the bridge removal. A comment was made that they have to be breathing a sigh of relief as the initial estimate to demolish the bridge included a surety of $75,000.
The next bid received for the project was from a company out of Athens, WI. That was for $96,520.