McDonald's on Highway 33 providing table service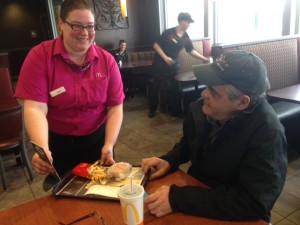 The McDonald's on Highway 33 in West Bend is part of a new courtesy being tested by the restaurant chain as it rolls out table service.  "A customer will place their order at the counter, we'll give you a number and bring everything out to you," said store manager Stefanie Brettingen-Nash.
"Our goal is to talk to the customer at least three times during their visit including wrapping it up by clearing the customer's tray."
The main objective, according to Brettingen-Nash, is so the customer doesn't have to leave their seat."
"Anything we can do to satisfy your visit," said Tim Schweiger, assistant manager. "I had a gentleman last week who said he never had been to our store before and he just loved the table service."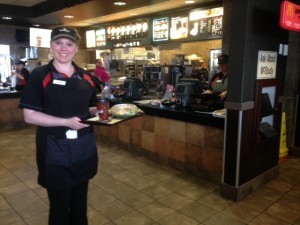 Schweiger said no tipping is necessary and basically McDonald's "just wants to provide a better customer service."

Feedback on the new table service has been all positive. The McDonald's on Highway 33 has seen its customer-satisfaction surveys jump from 46 percent to 54 percent.
McDonald's did not have to hire any additional staff to provide the table service.
While the service is provided 7 a.m. – 7 p.m., a designated staffer is assigned to bring food from the counter to a customer generally from 11 a.m. – 2 p.m. and 4 p.m. – 7 p.m.