Wall of Honor recognizes local veterans by Kaitlyn Von Behren
West Bend High School student reporter Kaitlyn Von Behren wrote an article about teacher Scott Mindel and his effort to honor students who have gone into the military. A portion of her article in below.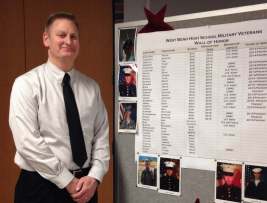 "I would like to get all of the names and all of the pictures to match those names," Mindel said. He is even working with the Historical Society to find the names of local veterans from World Wars I and II.
Mindel has been working on these projects since the beginning of the school year. He wants students who are considering joining the military to know that they can talk to staff members. Mindel believes that students will appreciate talking to somebody who will give them an honest answer as to what life in the military is like, as opposed to a guidance counselor or a recruiter.
"[The Veterans Tribute Wall and video] is such a great start. As a veteran myself, to see that recognition means a lot," said Bill Greymont, head principal and Army veteran. Greymont was stationed at Camp Navistar, 200 meters from the Iraq border in Kuwait, from July 2006 until July 2007.
To read the full article by Kaitlyn Von Behren log onto The Current.