Washington County, WI – It all began with a dinner party. Now, 62 years of marriage, 11 homes, and two states later, Dave and Linda McFadden reside in Cedar Community's independent living with their dog, Rudy. And although they live in a "retirement" community—they are far from retired!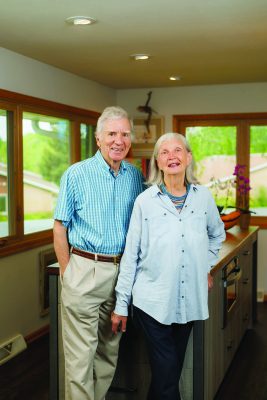 Their love story crosses oceans. Linda was born in Estonia and was seven years old when her family fled to Germany during WWII. They lived there for five years until a sponsor family in Texas took them in and helped her parents find employment. Soon after, they learned of a community of Estonians in Rockfield, Wisconsin, and they moved north. Linda eventually attended high school in West Bend and went on to Milwaukee-Downer College to study home economics. She earned her bachelor's degree and taught home economics at Cumberland School in Milwaukee for two years.
Click HERE to SUBSCRIBE to FREE local news at
Dave grew up in New Jersey and earned a mechanical engineering degree from Notre Dame in 1957. After graduation, he accepted a job at Allis-Chalmers in Milwaukee. As a new graduate in a new town with a new job—Dave was happy to receive an invitation to a dinner party. The hostess was an admissions officer at Milwaukee-Downer College and a distant relative of one of his coworkers. She invited four men from Allis-Chalmers and four women from Milwaukee-Downer College to dinner and Bridge at her home. That night, "I told my roommates that I met the girl I am going to marry," says Dave. He was right.
The McFadden's were married in 1959 and built a home in the Cedar Lake Hills subdivision with access to Big Cedar Lake. It was a perfect location for Dave, who enjoyed sailing. However, days at the lake were not long for the McFadden's, as his job took them to Geneva, Illinois, where they lived for 45 years. After retiring Dave needed to figure out what was next—and inspiration was not far away. Dave and Linda had a neighbor who wanted an English-style kitchen (spoiler alert—the English kitchen was only available in England and she couldn't afford it). With Dave's background in mechanical design, she asked him if he could help her accomplish the same look—locally. And their next chapter began.
CLICK HERE to read more about the McFadden's in Cedar Community's LIVE MORE magazine.
Cedar Community is a place to "live more." Our natural setting reminds us of the beauty and diversity of creation. We want our residents and their families to enjoy, explore, and embrace their best life. The Gospel tells us Jesus came "that they may have life, and have it abundantly" (John 10:10). Our relationships, services, and environments allow for abundant and purposeful living.