West Bend, WI –  An event to benefit Albrecht Free Clinic on Wednesday, December 18 at The Columbian in West Bend.
Vernon Biever captured more than six decades of Green Bay football, getting his start at the Milwaukee Sentinel and then serving as the Packers' official team photographer from 1946 until his retirement in 2006.
His photos have appeared in countless books, magazines, and newspapers, and he was inducted into the Packers Hall of Fame in 2002. Jim Biever followed in his father's path, taking up the mantle as official team photographer for the Packers until his retirement in 2016.
This is a great opportunity for local Packer fans to meet photographer Jim Biever and Tom Andrews author of 100 Years in Titletown.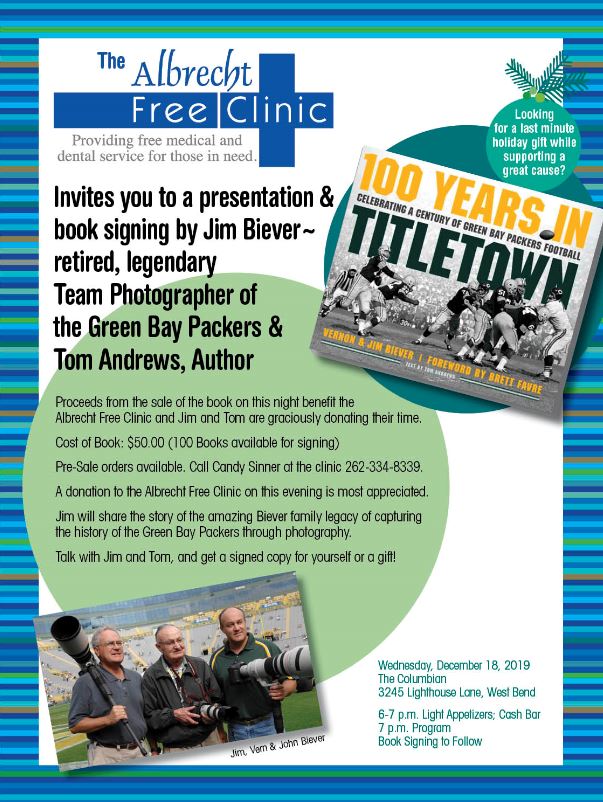 If a picture says a thousand words, Vernon and Jim Biever have had more to say about Packers football than anyone. Together, the father and son photographers covered the team for more than seven decades, spending most of those years as the Packers official team photographers.
In 100 Years in Titletown: Celebrating a Century of Green Bay Packers Football (Triumph Books, Oct 1, 2019),  Biever curates the most engaging and exciting selections from generations of Packers football. The resulting collection covers the entire spectrum of Packers history.
Albrecht Free Clinic holds the last 100 copies out of 10,000.  A second production of the book is not expected.
Tom Andrews, the author, is a Hartford resident.  Jim Biever is from Port Washington.
Andrews and Biever are donating their time (value of $400 each) as well as the book proceeds.