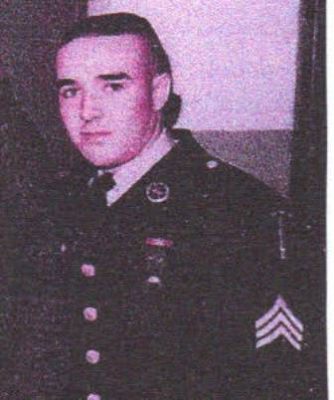 August 17, 2018 – West Bend, WI – There will be a memorial today, Aug. 17, for John Geib from 4 p.m. – 8 p.m.  at the West Bend VFW Hall, 260 Sand Drive, in West Bend.
Military Honors are scheduled for 5 p.m.
Bring pictures and/or memories to share.
John E. Geib, age 70, of Mansfield, MO, formerly of West Bend, passed away on June 23, 2018.
John was born on April 10, 1948 in West Bend to Sarto and Ernestine (Immel) Geib.  John grew up in Barton attending St. Mary's School and West Bend High School.  The next step would forever change his life.  He, along with his friend Mike Hoeft, registered for the draft in the Army on May 17, 1967.
John was promoted to Sergeant (E5) on graduation from the non-commissioned officer academy at Fort Benning, GA where he took training as a combat leader.
John received a medical discharge for wounds suffered during conflict.  He valorously attempted to save one of his men who had become pinned down by enemy ambush and had been mortally wounded.  Despite being wounded himself, John attempted several times to brave the intense hostile fire to recover the soldier until he was ordered to withdraw.  John's actions earned him the Bronze Star Medal of Valor for heroism. Additionally, he also received the Vietnam campaign medal, the National Defense service medal and the Vietnam service medal.
John recovered from his physical injuries at the Woods Veterans Hospital in Milwaukee, WI.
After his recovery, John returned to West Bend where he found work as a railroad mechanic and later moved to Ash Flats, Wisconsin and then to Mansfield, MO.
John is survived by his children Jessica (Mike) Mattox and grandson Zach of Lexington, SC; Gabe Geib of Madison, WI; Matt Geib of Green Bay, WI, and Christopher Geib of Eden, WI.
He is further survived by his brother Paul (Mary Lee) Geib of West Bend, sisters Barbara (Dick) Hensen of Campbellsport, Mary (Gary) Daley of West Bend, Lois (Dan) Guse of West Bend and sister-in-law Sue Geib of West Bend.
He also is survived by one aunt, Sr. Mercedes Geib of Fond du Lac, WI, as well as many nieces, nephews, relatives and friends.
John was predeceased by his parents, Sarto and Ernestine Geib, brother Peter Geib and sisters Betty Waala and Annie Walker, brothers-in-law Ervin (Mickey Waala) and Roger Walker.  Funeral services are pending.