May 20, 2019 – Hartford, WI – In an effort to draw attention to domestic abuse and Friends, Inc. in West Bend reporter Samantha Sali is attempting to run 200 miles by October. Her story is below.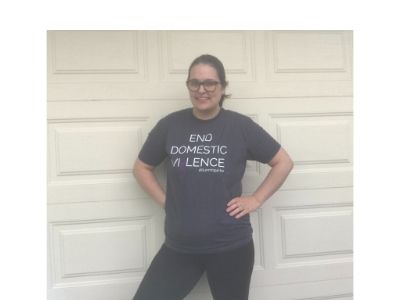 I'm running 200 miles by October (domestic violence awareness month) to shed a light on violence against women and raise money for Washington County's only domestic abuse and sexual assault service provider, Friends, Inc.
I've been advocating against domestic violence since 2015 and, in 2017, when my mom needed help leaving my abusive father, the local Washington County shelter, Friends Inc, went above and beyond to help her heal.
Friends, Inc. Inc is a multi-faceted organization providing trauma-informed services to those exposed to domestic violence and sexual assault. It has been the sole provider of domestic abuse and sexual assault services in Washington County since 1978. Over the last decade it annually provided; 5,680 shelter nights to 100 individuals, responded to over 1,300 crisis calls, provided outreach services to 370 individuals (including 525 art therapy sessions with 75 children), and presented 250 prevention classes to 5,300 youth and adults.
I started the #Running4Her challenge to not only thank Friends Inc. for its services to the people within my community by raising money for them, but I also wanted to use the opportunity to bring awareness to this epidemic.
Mile 50 Update
My last update was when I hit mile 11 which you can read HERE. I have to be honest, I had a difficult time getting miles in with the cold weather. After my first mile update was shared and the support for #Running4Her grew larger, I felt a little overwhelmed. There was a lot of excitement with the goal I created for myself, which lead to many asking me for t-shirts, posters, etc.
It proved a little difficult to run and manage the social aspect of my fundraiser, so I asked for my mother to help. Thanks to her, there are a bunch of flyers around the Washington County area, including the Slinger Piggly Wiggly. She also donated homemade skincare products to one of my sponsors, Salon Effervescence, to offer to their clients in exchange for a small monetary donation. They also are collecting donations for the Friends Inc. wishlist. A huge thank you to Diane and all of the other sponsors who've been so supportive!
As for actually running, once the sidewalks were thawed, I was able to really pound some pavement. I took my 2-year-old son along for some of the runs, but honestly, I really enjoy running solo.
Click HERE to read more and find out how much I've raised so far.