Monday Night Bass Fishing League wraps up its season with a strong finish |   By Bryan Miller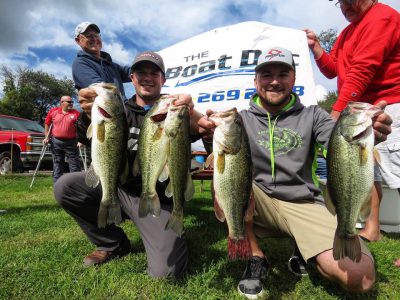 Sept. 13, 2018 – Hartford, WI – The Kettle Moraine Monday Bass League wrapped up its 2018 season with the Championship on Pike Lake. Conditions were less than favorable, strong NE winds and a significant temperature drop led to a tough bite. As always in this league, a few teams figure out a pattern and make it happen.
Taking home the championship were Bryan Miller and Tyler Lauters. This duo got hot after the fifth or sixth week and never looked back.
They brought in a limit of 5 bass weighing 12.06 pounds to capture the 16th KMMBT Title since the league's inception in 2003.
Second place went to Joe Koch and Michael Cloninger. This pair also had a limit of 5 weighing 11.22 pounds.
Third place was cleaned up by Angler of the Year Logan Kertscher and his grandfather Don Kertscher. They caught 4 bass weighing 8.88 pounds.
Fourth place went to Marv Thiesen and Roger Kutz. These guys were a top six qualifying team and finished well.
Taking home the BOAT DOC/ MEC Big Bass Title on this day, Caleb Niedfeldt, with a largemouth registering 3.44 pounds.
The league will kick off its 17th season at Pike Lake in early May 2019.
Photo's courtesy of Logan Kertscher.