Mother Cabrini Award winner Ann Taylor remembers Hot Dog Day at St. Frances Cabrini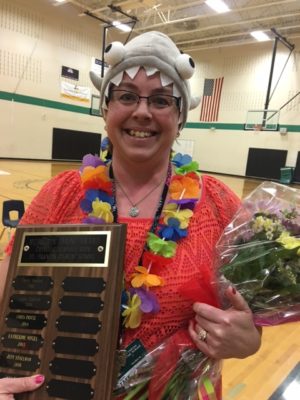 Feb. 3, 2017 – West Bend, WI – This week, during Catholic Schools Week, St. Frances Cabrini presented the Mother Cabrini Award to Ann Taylor.
Below is an article posted on the St. Frances Cabrini webpage about Taylor and her memories as a student at Cabrini.
Mrs. Taylor was hired in 1997, although back then she was known as Miss Wagner. She teaches 2nd Grade now, but she has also taught 1st grade, 4th Grade, and 4th and 5th Science. And that's not her only connection to Cabrini. She is also an alum. She graduated from 8th grade in 1987. But that's still not all, because she is also a school parent. Her daughter is an 8th grader here, and her son is now a freshman in high school.
What brought Mrs. Taylor back to Cabrini? The same thing that she loved about the school as a student: the strong family environment. After she graduated from St. Norbert, she taught elsewhere for a while, but she knew she really wanted to be at Cabrini, and when there was an opening, she had her chance.
It was an adjustment to be the colleague of so many of the teachers she'd had as a child. And they assumed she knew how things worked because she'd been a student here. But she found her understanding of the school is different as an adult, now that she guides students through the routines and schedules rather than being guided. All the same, it felt like home to her as a student, and when she came back as a teacher, it felt like being home again.
One of her favorite memories as a student was Hot Dog Day. It happened about once a month, and it was such a big deal back then, when students normally ate cold lunches in their classrooms every day. They'd have a hard time concentrating on their lessons on Hot Dog mornings, because the aroma of cooking hot dogs would drift up from the slow cookers at the back of the room. Parent volunteers would bake cookies and brownies for dessert, and the kids had chocolate milk and orange drink.
She is married to Jim Taylor. She laughed when I asked how they met, because she's known him her whole life. His older sister was married to Ann's uncle, which makes family relationships unusually complex. Now that she's married to Jim, her uncle has become her brother-in-law, and her niece is also her cousin.
When she's not teaching, Mrs. Taylor enjoys all kinds of different activities. She's recently started taking piano lessons in the summer with Lori Schneider. She'd always wanted to take lessons, but never had the opportunity. And then one year her husband gave her the lessons for Mother's Day. Her daughter is a talented pianist, and sometimes they can now play duets together. Mrs. Taylor also loves photography. She describes herself as the kind of person who has to try everything at least once, so there aren't many hobbies she can say she hasn't at least dabbled in.
She and her family live in Kewaskum, where they have a guinea pig and a pond full of goldfish. They heat the pond during winter, and the fish have lived there happily for years.
When it was time to send their children to school, they decided on Cabrini. They wanted their kids to have the same family feeling she had at school, and for school to help them grow deeper in their faith. She knew they'd have a strong support system through the school family and the church family. And she knew that the teachers here really love the children, and will always do everything they can to help them. And that made it an easy choice for their family.
Submitted from St. Frances Cabrini