West Bend, WI – The Mother Earth News Fair comes back to the Washington County Fair Park and Conference Center, 3000 County Hwy PV, West Bend, Wisconsin.
On September 16 and 17 to teach festival goers how to:
Build resiliency against inflation;

Insulate themselves from the costly whims of the supply chain;

Live more sustainably with in-home renewable energy options;

Protect themselves from extreme weather; and

Learn how to caretake for chickens, bees and other livestock.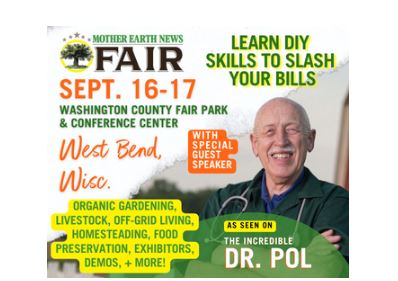 Dr. Jan Pol, the star of Nat Geo WILD's "The Incredible Dr. Pol" headlines the event, presenting on preventative livestock care and offering book signings. Sarah Thrush of the popular Sarah Plain & Tall channel on TikTok (@peeliesnpetals) also will provide demonstrations on pressure canning during the weekend event!
"We are so glad to return the Mother Earth News Fair to West Bend after seven years, and are thrilled to bring experts like Dr. Pol and Sarah Thrush who can describe how valuable it is to properly care for your backyard livestock and preserve your harvest," said Josh Wilder, Mother Earth News Director of Events & Video. "Our goal is to offer something for everyone – whether you're interested in planting a garden for your home in the city, or if you have been living off the grid for decades, we believe this year's offering of expert presenters, exhibits and workshops will appeal to those young and old, experts and beginners."
Participants will enjoy more than 75 expert-led workshops, hands-on learning, a 45,000-square-foot marketplace and family-friendly fun as they gain the skills and know-how for year-round savings. Mother Earth News Fair will feature experts sharing insights on:
Reducing your heating and cooling costs;

Backyard beekeeping;

Creating herbal teas;

Organic gardening and seed-saving;

Raising small livestock;

Off-grid living;

Pressure canning;

Urban farming and gardening;

Raising Chickens and backyard poultry processing;

Mushroom growing and cultivation;

Energy hacks to reduce your heating and cooling costs;

Do-it-yourself building projects

Natural wellness and holistic health; and

Living sustainably and mitigating your carbon footprint.
At MOTHER EARTH NEWS FAIR, those 17 and under get in free. Children- and teen-focused activities include making bath bombs, naturally scented play dough, and mud forts, all of which are theirs to take home.
"I'll be sharing all kinds of practical wisdom and real-life know-how from my 50+ years in veterinary medicine," said Dr. Jan Pol. "Doesn't matter if you're running a big farm with all sorts of livestock, have a little hobby farm, or just a couple of pets. No matter the size of your operation or budget, there are many tricks and tips that you can use to help your animals thrive."
General admission tickets are available for single day access for $20 or multi-day access for $30. Tickets can be purchased at motherearthnewsfair.com
Preferred seating ticket holders at the event will have access to front-row seating at most workshops and a USB flash drive with the complete MOTHER EARTH NEWS archive from the magazine's issues from 1970 to 2022.
Exhibitor booths are available to reserve at the MOTHER EARTH NEWS FAIR for no cost. Those interested in reserving an exhibitor booth can reach out to Brenda Escalante at [email protected].
ABOUT MOTHER EARTH NEWS
Since 1970, MOTHER EARTH NEWS has provided practical and money-saving information on organic gardening, DIY projects, natural health, homesteading, sustainable living, real food and more. MOTHER EARTH NEWS inspires millions to live sustainable lifestyles through its magazine, website, podcasts, events, and videos.