Moving up into Barton for a look at Grocery Stores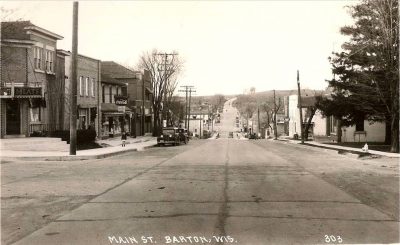 Feb. 24, 2018- Barton, WI – There was a bit of feedback on the grocery store topic this week as we spent some time Thursday going down memory lane recalling some of the old corner stores in West Bend. Now hiking up the hill into Barton there's a couple more.
Today's circa 1940's photo of Main Street Barton is courtesy Darren Schacht with a hat tip to Terry Becker who notes Frank's Meat Market, Pfeiffer's General Store, Marv's Drug Store, Kapfer & Gehl Furniture / Funeral Home.
Frank and LaVerne Polyak operated Frank's Meat Market in Barton for over 35 years.
LaVerne "Lovey" continued to operate the market for several years after Frank's death June 8, 1987.
This story from Kristine Deiss is one of my favorites. It was originally posted on You Know You Are from West Bend if….Kristine Deiss My parents owned a double flat a block north of Frank's Meat Market. When I was a baby, my mom would do her shopping at Frank's and Pfeiffer's grocery store. There were steps to get into Marv's drug store so she would leave me outside in the baby buggy when she went in. One day after she got back home, the phone rang and it was Marv. He asked her if she forgot something that day and after she thought about it said, "No. I have everything," to which Marv replied, "Well you may want to come back and get Kristine."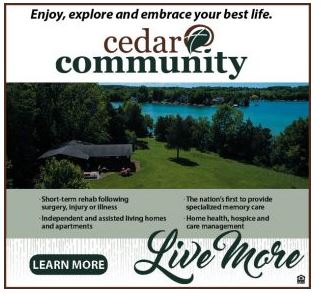 LaVerne passed in 2000. A U.S. Census report from 1930 shows Henry "Laddie" Mitter and his wife Caroline settled in the former Village of Barton in 1926 and operated Mitter's Meat Market until retiring in 1955.
Mitter and his wife bought the building in the 1930s and the Mitter family ran several butcher shops in the village including one with Frank Polyak.